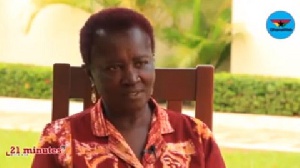 A draft Public Universities Bill presented to the public universities for their input has generated some mixed reactions from a section of the public and stakeholders, university lecturers as well as politicians.
Whereas some are for the Bill, others are strongly kicking against the bill and latest to join is the former Education Minister and also former Vice Chancellor of the University of Cape Coast, Prof. Jane Naana Opoku Agyemang.

Speaking on NEAT FM's morning show 'Ghana Montie', Prof. Jane Naana Opoku Agyemang told host Kwesi Aboagye that "The idea to even think about such a bill is wrong, that will not help the nation, we don't need it."
Despite the majority rejection of the bill, the Minister of Education, Dr. Mathew Opoku Prempeh says the reactions are premature because the document is only a draft and not even at the stage of a bill.