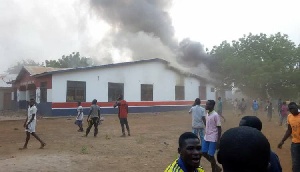 Member of Parliament (MP) for Salaga South Salifu Adam Braimah has disowned rampaging youth alleged to be aligned to the NPP who burnt down the office the New Patriotic Party (NPP) in Salaga in protest over the choice of Damongo as Capital of the new Savannah Region.
According to him, the youth are not known members of the party and are some faceless persons being influenced by certain individuals to drag the image of the place into the mud..

The protesters are displeased by President Nana Akufo-Addo's announcement Tuesday naming Damongo as the capital of the Savannah Region.

They insist Salaga deserved to be the regional capital and not Damongo.

They argued the people of Salaga South showed faith in the New Patriotic Party by voting the party's parliamentary candidate Salifu Adam Braimah as MP.
But Adam Braimah who is MP for Salaga has said although the protest happened, it was not masterminded or led or had NPP members as active participants.

People in the Savanna area of the Northern Region voted massively in support of the creation of the new region were a total of 206,350 YES votes representing 99.7 per cent and 647 NO votes representing 0.3 per cent out of the total votes cast of 207,343. Only 346 votes were rejected.

Controversy has however erupted over the choice of capital as various areas were competing for the single slot. The choice of Damongo has angered Salaga residents.