Rawlings never anointed Prof Mills as NDC presidential candidate for 2000 elections – Amidu slams Kwamena Ahwoi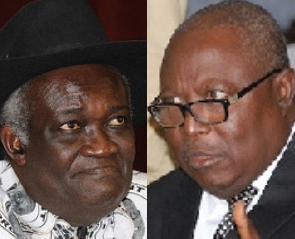 Martin Amidu, a former attorney general and minister of justice, has slammed National Democratic Congress (NDC) stalwart, Kwamena Ahwoi, for comments he made about the late Former President, Jerry John Rawlings in a book he wrote.
According to Martin Amidu, Kwamena Ahwoi in his book, Kwamena Ahwoi's Working with Rawlings, tried to paint a picture of Rawlings as a dictator, who imposed things on the NDC including the candidature of the late former President, John Evans Atta Mills, in the 2020 presidential elections.

In his critique of Ahwoi's book, which was copied to GhanaWeb, the former attorney general added that Kwamena Ahwoi and supporters of Prof Mill were those pushing the false narrative that Rawlings had chosen him (Mills) as the candidate of the NDC for the 2020 presidential elections in what was coined the "Swedru Declaration".

"An objective reading and analysis of the author's own written narrative of President Rawlings' quoted statement leaves one in no doubt that President Rawlings did not declare his Vice President (Professor Mills), whose political handler and chief puppet master was the author as his successor to be the presidential candidate of the NDC in the 2000 elections. Vice President Mills was given the free will and choice by President Rawlings' verbatim statement at the Agona Swedru June 4 rally on 6 June 1998 to decide whether or not he was ready, able, and willing to contest the 2000 presidential elections on the ticket of the NDC.

"On the foregoing premises, the mis-reportage of President Rawlings' statement at the Agona Swedru June 4 rally by the media and Prof. Mills' supporters within the NDC, including the 2 self-appointed puppet masters of the politically naïve Vice President, of the clear words of President Rawlings do not support the self-fulling prophecies and conjectures that Vice President Mills had been anointed by Rawlings as the presidential candidate of the NDC for the 2000 elections.

"The self-fulfilling presentation by the author of what Rawlings said at Agona Swedru as a final decision, directive, and instruction to the NDC and Professor Mills to be the NDC presidential candidate for the 2000 elections partakes of the design of the author to present Rawlings as an autocrat dictating who was to succeed him for the 2000 elections. It was deliberately intended as a traitorous insult to the excellent management skills of President Rawlings as Chairman of the PNDC and later as the constitutional President of Ghana," parts of Amidu's critique read.
Amidu, a former special prosecutor, also said that Kwamena Ahwoi and his brother saw themselves as handlers and controls of the late Atta Mills.

He added that Prof Mills, who was not keen on becoming the NDC flagbearer in the 2000 elections, was persuaded by the Ahwois and other elites in the party "who saw him as a mere tool for the achievement of their goals,".

Read Martin Amidu's full critique below:



You can also watch the latest episode of People & Places here






IB/DO