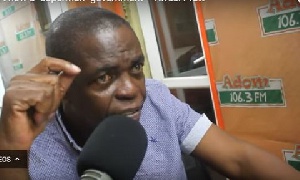 Managing Editor of the Insight newspaper, Kwesi Pratt has hit hard at former President Jerry John Rawlings for speculating that the recent robberies might be politically motivated.
Ex-President Rawlings, in a Twitter message on Thursday, reminded security agencies in the country that they "owe us the responsibility of keeping the nation safe and secured. Let us all confront this menace with utmost confidence and professionalism while ensuring that no one, high or low takes advantage of our vulnerabilities."

He also hoped the "recent robbery and killings is downright plain robbery and not a politically motivated action from within or without, calculated to undermine those in charge of the security machinery in order to pave the way for certain parochial ambitions".

Responding to Mr. Rawlings' comments, Kwesi Pratt without mincing words described the comments as "baseless".

According to him, leaders in the nation should desist from making "baseless accusation" which obviously come with "no evidence, nothing".
Mr. Pratt rather called for a national consensus on developing an approach that can help to combat crime in the country and strengthen the security structures as well.

He told host Kwami Sefa Kayi on Peace FM's Kokrokoo that the robberies are a "national problem which calls for national consensus", hence called on the leadership of the Ghana Police Service to employ the services of any individual with expertise to fight crime.

Mentioning names such as the former Greater Accra Regional Police Commander, Madam Rose Atinga Bio and former Inspector General of Police (IGP) Mohammed Alhassan among others, Kwesi Pratt asked "why don't we have a bi-partisan approach or multi-partisan approach, bring everybody who has something to contribute and seek national solution to a national problem?"