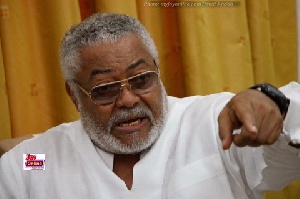 Former President Jerry John Rawlings' concerns over the recent spate of armed robbery in the country has angered a section of National Democratic Congress (NDC) members.
Less than 24-hours after the founder of the NDC is reported to have stated that he hopes the crimes are not politically motivated, members of his party seem to suggest the former head of state is indirectly accusing the umbrella family.

Though many will not openly speak to the issue on mainstream media, comments from social media reveal there is a growing rage over the comment with some threatening to hoot at him if he dares attend a party function.

Mr Rawlings on Thursday was reported to have said:" "Let us hope the recent robbery and killings is downright plain robbery and not a politically motivated action from within or without, calculated to undermine those in charge of the security machinery in order to pave the way for certain parochial ambitions,"

On his official Twitter handle to call for pragmatic measures in dealing with the raging insecurity.

"Let us all confront this menace with utmost confidence and professionalism while ensuring that no one, high or low takes advantage of our vulnerabilities",

But his comments appear not to have gone down well with some leading members of the party who have always maintained he is doing the bidding of the ruling New Patriotic Party (NPP).
Read comments below;