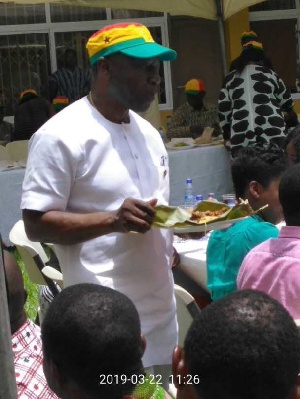 A section of Ghanaians on social media have shown their government red card for uncharacteristically holding a party to celebrate economic 'hat-trick' scored in the midst of challenges.
Finance Minister Ken Ofori-Atta on Friday morning pulled out all the stops to celebrate what his Ministry tagged as Ghana's hat-trick; a successful eurobond, completion of IMF credit programme and a slight appreciation of the cedi against major international trading currencies.

On a morning that Ghanaians woke up to the news of a ghastly accident that claimed at least 50 lives including children, the minister and his staff gathered to have a kenkey party, but in the view of some Ghanaians, 'this is so wrong!'.

Photos of the celebration surfaced online Friday afternoon showing Mr Ofori Atta eating 'waakye' in traditional leaves, and has since triggered divergent views, with many people expressing anger at the government.

A close government associate, Gabby Asare Otchere-Darko, has further explained the rationale behind the 'kenkey' party in a Facebook post Saturday.

"Perhaps, if we all eat more kenkey and fish (made in Ghana) and use and wear more made in Ghana goods and even, errm, drive made in Ghana car all like our Finance Minister does, we may be helping the Cedi in our own little ways," he posted.
But on social media, particularly Twitter, some Ghanaians are literally roasting the government for celebrating what in their view, is mediocre, and for being 'insensitive' to the families of those who died in the accident.

For most of the people, it is unthinkable for the government to jubilate over a loan it has secured which the taxpayers will eventually pay. More mind boggling to some of them is the celebration over the marginal appreciation of the cedi, which for them, it is just temporary.


This government had a kenkey party for securing a loan deal. We are doomed as a nation. Sigh pic.twitter.com/7JDOYmXDPj

— Kodzo (@ElormK__) March 23, 2019
You Dey do Kenkey Party around 7:30 am , over loan u go take first of all why your mind go function well to rule the country if you go take kenkey that early morning .. stupid leaders

— Abdulai Amadu ???????? (@DeMurphyL) March 23, 2019
New Zealand lost about 50 people and Akufo Addo responded in many sensible and responsible ways.
Ghana looses 70 people and the government organizes a Kenkey Party on the same day.
May we get responsible leadership one day.

— Ing. Paul Afotey Quaye (@niiafoteyquaye) March 23, 2019
This kenkey party is politically not smart. They have actually diverted the little progress made for people to punch holes. Who kraa advises these politicians?

— Kwame Kesse (@Lavell_King) March 23, 2019
Can't believe @NAkufoAddo sanctioned this, NO ... What are they celebrating?? You organised a kenkey party when a lot perished this morning?? Mr. President u have lost it, u have no control of things.... @ElikemKotoko @NDCChangeAgenda @dannyaslan124 @CorleoneESQ @KokuNanegbe pic.twitter.com/PSRG5lKQOu

— Nana Yaw Otibo (@otibo_eric) March 22, 2019
However, not everyone is bashing the government for the celebration of the hat-trick; some find nothing wrong and think the celebration is justified.
The NDC and their cohorts are simply incredulous. Small Kenkey party for the staff and yall are fuming. What if it was a party at Mövenpick? Weren't we all here when u guys were spending millions on breakfast meetings? Hypocrites

— Joe???????? (@Papa_Ofori007) March 23, 2019
You people all should fuck off! It's only kenkey and fish. It's not a lavish party at some fancy hotel. Government workers need to be incentivised too. They've worked hard to get the country off that bloody IMF program.

— Sass Fulani (@Nii_Noi) March 23, 2019