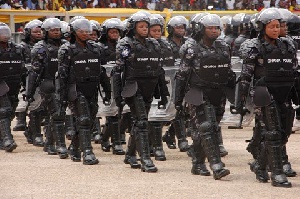 The Volta Regional Police Command says it has picked intelligence that some chiefs in the area have organized some motor riders to disrupt the referendum on the creation of the new Oti Region from the existing Volta Region.
The Regional Commander DCOP Francis Doku has vowed that his outfit will deal ruthlessly with any group of people who foment trouble before, during and after the exercise.

"Before I walked into a meeting with the Jasikan District officer, we are receiving reports that some chiefs are organizing motorbike riders to come and create mayhem. My advice to those motorbike riders is that they must rescind their decision to come over because when they come and create any mayhem they'll meet us squarely. We are prepared for them, anybody who will put impediments in the way of the referendum will be dealt with."

There have been agitations by some traditional leader against the calving of the Oti Region from the Volta Region with some of them including those in the Tongu area, going to the extent of having to invoke deities of their lands to prevent the Volta region from being divided.
They seek the Tongu deities to ensure the 50% voter turnout and 80% yes votes in favor of the creation of the proposed Oti Region in the referendum as required by the 1992 constitution are not achieved.

The team which visited the Zikpixor Shrine at the bank of River Volta in Sogakofe was led by the Chairman of the Tongu Traditional Council and Paramount Chief of Tefle, Togbe Nakakpo Dugbaza VIII.