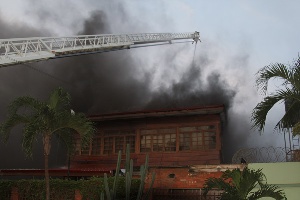 Saturday's blaze at the Coconut Grove Regency Hotel in Accra was a huge setback for Ghana's hospitality industry, former President John Dramani Mahama has said.
The hotel, owned by businessman and politician Dr Papa Kwesi Nduom, caught fire and destroyed several items. No one was hurt in the inferno.

Following the incident, Mr Mahama has taken to social media to commiserate with Dr Nduom, his wife, and hotel staff.

"Yesterday's fire at Coconut Grove Regency Hotel is a major loss to our hospitality industry. My thoughts are with Dr and Mrs Nduom and workers of Groupe Nduom," he wrote on Facebook.
In a related development, the hotel has said it is still safe for business despite Saturday's fire.

"It is important to note that the Regency Hotel and its restaurant, guest rooms, and conference facilities are intact and were not touched by the fire," a statement from the Corporate Affairs Manager of Groupe Nduom, Mr Richmond Keelson said.