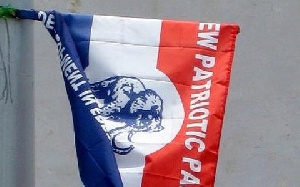 Executives of the New Patriotic Party at Tamale in the Northern region have warned they will remove the Mayor of the Metropolis Iddrisu Musah Superior if President Akufo-Addo fails to heed their call to sack him.
"We know he is a listening President so he will listen to us and sack him but if he fails, we will remove him ourselves," Tamale South constituency secretary and regional communications team member, Yussif Danjumah said on Starr Today Wednesday.

The entire executive body of the governing New Patriotic Party (NPP) in two constituencies in the Tamale metropolis, Tamale South and Central Wednesday joined calls for the sacking of Musah Superior.

Draped in red attire, the executives warned President Akufo-Addo at a heavily attended news conference of red waves that would hit the party in the constituencies if he does not heed their request.

Danjumah further noted: "We are very angry to issue this important statement. The executive committee of the above [Tamale South and Central] mentioned constituencies are calling on the president, His Excellency Nana Addo Dankwah Akufo Addo to dismiss the Tamale Metropolitan Chief Executive, Iddirisu Musah Superior, with immediate effect".

The mayor according to the executives runs a parallel administration, neglecting party members in the two constituencies.
"No single contract has he ever been awarded to the current crop of executives for both constituencies to support them to run the party fulfilling his own promise to do so. Ever since he declared his intentions to contest the NPP primaries in the Mion constituency, his appetite for the development of his constituency is very glaring for any careful observer to the detriment of the two constituencies under Tamale metro.

Meanwhile, local governance expert Agyarko Oduro has called on the President not to kowtow to the demands of the executives.

"As at now, I have not seen any concrete evidence to show that the man is not up to the task he's performing. Is it the situation that they just want to be given contracts and stuffs like that and some of them also think they must be consulted before key decisions are taken in the Assembly.

"So, I don't sincerely see any case they have in this issue. I think the president must be firm and carry out the message to them that it's his prerogative to appoint the gentleman and if the gentleman is performing as expected of him there's no way he's going to remove him," he said.