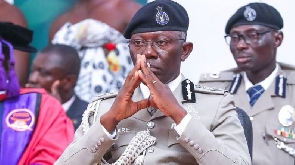 The Member of Parliament (MP) for Assin Central, Kennedy Agyapong, has warned the Nana Addo Dankwa Akufo-Addo government against removing the Inspector General of Police (IGP), Dr. George Akuffo Dampare.
According to him, there would be no justification for the removal of the IGP because he (Dr. Dampare) has performed amazingly well since he took office.

The MP, who made these remarks in an interview on Kessben TV on Monday, September 18, 2023, added that Dr. Dampare has been the best IGP he has seen as the head of the Parliamentary Select Committee on Defense and Interior and that removing him would be a mistake.

"Since I became the head of the defence and interior committee, we have had a number of IGPs, and this man (Dampare) what he has done, I don't think we are being fair to him.

"…Don't make the mistake of removing him. Under him, the rate of armed robbery has reduced drastically; he has transformed the police headquarters; the place looks so clean and beautiful".

The Assin Central legislator, who is also a flagbearer hopeful of the ruling New Patriotic Party (NPP), made these remarks while reacting to conversations on a leaked tape about an alleged plot to remove IGP Dr. George Akuffo Dampare.

In the said video, a Police Commissioner, who described himself as Mensah, was heard with Bugri Naabu plotting the removal of IGP, Dr. George Akuffo Dampare, over fears he would be too firm in the 2024 elections.
The Police Commissioner, who is said to be retiring, is heard telling the politician that the IGP is too firm and will not allow machinations in next year's polls if he is not removed.

He further notes that the nature of the security the IGP provided during the Assin North by-election shows he will not allow any rigging in the polls.

"This IGP won't help us. He won't; he wants everything to be done fairly, and we don't win elections that way. If we don't remove him, we can't break the 8; in politics, we need machinations, and this IGP won't allow that," the Police Commissioner is heard saying.

The IGP was summoned by the committee of parliament investigating the leaked tap after the two police officers captured in the tape, COP George Alex Mensah and Superintendent George L. Asare, made wild allegations against him before the committee.

They claim that the IGP connived with Burgi Naabu, the former Northern Regional Chairman of the New Patriotic Party (NPP), to record the video.

They also raised concerns about the leadership style of the IGP, accusing him of being an autocratic leader.
BAI/SEA

Ghana's leading digital news platform, GhanaWeb, in conjunction with the Korle-Bu Teaching Hospital, is embarking on an aggressive campaign which is geared towards ensuring that parliament passes comprehensive legislation to guide organ harvesting, organ donation, and organ transplantation in the country.

Watch the launch of the 2023 GhanaWeb Excellence Awards on GhanaWeb TV below:



Click here to start the nomination process for the 2023 GhanaWeb Excellence Awards