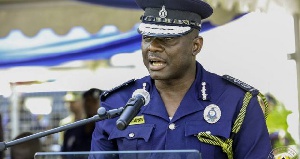 The Inspector General of Police, David Asante-Apeatu while speaking to the Press has cleared the assumptions of the public with regards to the recent transfers which have been made under his administration.
He stated that, in every given security agency, such shuffles is to be expected and therefore, the public should not assume that the act was taken as a result of settling a feud between members in the National Police Force.

He said, "Is not like someone is being victimised," adding that, it is rather to bring about innovations in maintenance of law and order in the country.

After assuming office about a year ago, the IGP has made three major transfers and the latest one saw Dr. George Akuffo Dampare, Director General of Police Operations moved to head the Research department of the service while his initial position was taken over by the Eastern Regional Commander DCOP Simon Afeku.
Moreover, he stated that, the transfers were made in order to address the recent lawlessness in the country that has seen citizens been robbed of their belongings while some have been assaulted.

He said that, the changes will enable arrests to be made soon.