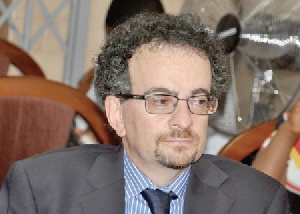 The British High Commissioner to Ghana Jon Benjamin has described as "nonsense" suggestions that homosexuals are sick and need special treatment to cure them.
According to him, homosexuality is innate and not a sickness and urged Ghanaians to respect their human rights.

"I know it is not a popular view in Ghana...but I think it is about consensual relationships between adults. I think that sexual orientation is something that is natural and inborn in people, I don't think that it is a choice they make and therefore I don't see any basis for treating people differently or removing any right they have as full citizens.

"It is their natural innate preference and all these nonsense about changing people and curing people, I think that is totally misplaced. I think that in a free society and a democracy people have the right to express themselves and be who they really are," Benjamin told Bola Ray, host of Starr Chat Wednesday on Starr 103.5FM.
Benjamin also dismissed reports that the UK wanted to cut aid to Ghana if the country did not legalise gay marriages.

"In what way are we forcing Ghana to accept that...demonstrably not because economic corporation package with Ghana has continued regardless and increased in recent years but on other hand we are not going to accept any lectures about we should organise our society".