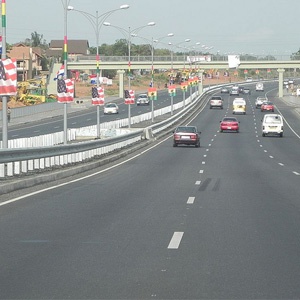 The New Patriotic Party (NPP) constructed eight times more roads than the governing National Democratic Congress (NDC), even though the NDC had 10 times more money, flagbearer of the NPP Nana Addo Dankwa Akufo-Addo has said.
This, according to him, is because the NDC inflated the costs of road contracts unlike the NPP's value-for-money attitude.

Addressing the media in Accra on Monday 29 February on what the NPP called 'The Real State of the Nation Address', Nana Akufo-Addo said under the eight years of the NPP the average cost of a kilometre of asphalted road was $480,000, while the average cost of the same stretch of asphalt under the NDC is $1.5million.

"His Excellency spends over 40 minutes recounting his achievements in the road sector, the story is unfortunately not corroborated by the facts on the ground," Mr Akufo-Addo recounted.

"For instance he mentioned works on the Drobo-Sampa road as he did last year. At the time President Kufour was leaving (office) the 40km stretch from Drobo to Soma had been done, leaving seven kilometres from Soma through Sampa to the border.

"For over seven years, the seven-kilometre stretch has not been completed. The Atebubu-Kwame Danso road, which the president said was on course, has long been abandoned by the contractor GN Ganin.

The Tarkwa-Bogoso-Ayanfuri road the president mentioned as part of the Takoradi-Kumasi road, which President Kufour had secured funding and works had been executed from Takoradi to Apepeyem.
President Kufour secured another $73million to do the road to Ayanfuri. The Apepeyem to Ayanfuri version has taken more than seven years to complete.

"Notwithstanding it is an indisputable fact that the NPP investment between 2001 and 2009 far exceeds that of the NDC since 2009. The road network in President Kufour's time increased from 37,320 km to 67, 291 km. The NDC has moved it from 67, 391 to 71, 063km.

"This means that the NPP constructed eight times more roads than the NDC, even though the NDC had 10 times more money. The president himself admitted that his government's contribution to the road network is a mere 3,700km over the eight years of stewardship.

"There is a very good reason why the NPP managed to construct a lot more roads with less money than the NDC has done in these last seven years. It is about value for money. Under the eight years of the NPP, the average cost of 1km asphaltic road was $480,000. In these two terms of the NDC government, the average cost of the same 1km asphaltic road is $1.5million. From $480,000 under President Kufour to $1.5million under President Mahama.

"This, fellow Ghanaians, is the real state of governance in Ghana today where government throws so much money at fewer projects. The more inflated the costs of projects are, the less our country develops and the less we are able to spend on the needy."