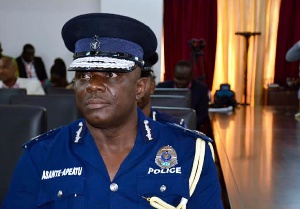 The Director General of Operations for the Ghana Police Service, COP George Akuffo Dampare has dismissed claims that the Inspector General of Police, David Asante Apeatu, is failing in the wake of increased robbery attacks in the country.
According to COP Dampare, the Police Service is doing its best to combat crime in the country, adding that they are even willing to put their lives on the line to ensure Ghanaians are safe.

"It will be very unfair and unfortunate for anyone to say the IGP is failing. The IGP and his men are working day and night to ensure safety for all…the police service is doing so much and the community should support the police administration to achieve more results," COP Dampare stated.

There has been over 45 robbery attacks in the country since January 2018 leading to three people losing their lives.

On Tuesday, February 27, some gun wielding men attacked Royal Motors at Industrial Area in Accra and made away with over GHc500, 000. Two people were injured in the process.

Two suspects were picked up later in the day by the Police.

Speaking on Morning Starr Wednesday, COP Dampare told host Francis Abban that the Police will go all out to apprehend all the culprits in the various robbery incidents.
According to COP Dampare, the Police Service is doing its best and is in control of the situation. He called on Ghanaians to provide information to the Police to help them combat crime in the country.

"We want to assure all and sundry that the situation is under control. Two people have been arrested…we have been working day and night to secure the country. We have been arresting people who pose as threats to our security…we do not put all of that out there.

"If ensuring there is security means we lose our lives as police officers, we'll allow that to ensure all citizens are safe. Visibility patrol has increased across the country. We are doing what we have been doing and have added on to ensure the safety of all."