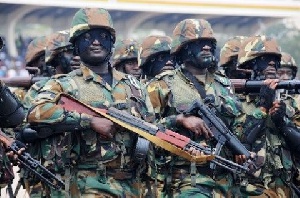 Government has announced that combined teams of police and military officers will be deployed with immediate effect to patrol major cities in Ghana as part of efforts to combat the increasing armed robberies.
The Minister of Information, Mustapha Hamid, disclosed this at a press conference Thursday afternoon. According to him, the decision was taken after an emergency meeting between the Vice President Dr. Mahamudu Bawumia and Security heads in the country.

According to Hamid, "government has also deployed a surgical operation based on intelligence…to flash out criminals and suspected criminals."

He added that "Operation Calm Life', which is the joint anti-armed robbery military and police operations has been enhanced with immediate effect. In this regard there will be heavy military and police presence in our major cities across the country starting from today."

Hamid, who is also the presidential spokesperson added that government has further directed the Energy Ministry to speed up the lighting of cities and communities to increase visibility.

"Government further directs that all financial institutions install CCTV cameras on their premises. Government will roll out a programme to link all these CCTV cameras to a National Operation Command Centre," he added.
The desperate measures by the government follow a series of robbery attacks in Accra and other parts of the country.

On Wednesday, 28 February 2018, for instance, a Lebanese businessman was shot and killed by robbers after he had withdrawn GHS200,000 from the bank. The robbers bolted with the money.

A day before that some armed robbers stormed Royal Motors in Accra in broad day light and made away with almost GHC500, 000.

These attacks follow raids on several Forex Bureau on the Spintex road since January this year.