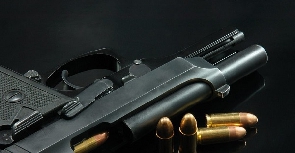 Two unidentified gunmen attacked a Forex Bureau operator, Kofi Boateng, in the Yendi municipality of the Northern Region on Tuesday, 28 August.
The masked gunmen robbed the Forex Bureau operator of all the day's sales as well as other unknown valuables.

During the heist, the armed men shot three other individuals who intervened to prevent the robbery.

Class 91.3FM's Northern Regional Correspondent, Mohammed Gadafi reported that the three victims have been identified as Abdul Razak, 22; Fuseini Ibrahim, 17; Iddrisu Imoro, 29.

They sustained injuries in the left wrist, both legs and the waist, respectively.
The Yendi Divisional Police command found five empty AK-47 bullet shells and blood stains on the ground when they visited the crime scene close to the Yendi market area.

The victims were sent to the Yendi Government Hospital for treatment.

According to the police, the suspects made their getaway on a motorbike. The police is on their tail. Police patrols have also been intensified in the area.