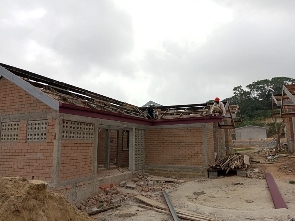 Correspondence from Western Region
Roofing of the Apiate reconstruction site has begun as the rebuilding of the community progresses steadily.

A visit to the Apiate community on Wednesday, Feb 22, 2023, by GhanaWeb indicated that roofing has begun with carpenters busily putting roofing sheets on the building.

This has given hope to the Apiate Disaster Relief Committee and victims of the explosion that contractors are going to work within time to ensure that they stay within the June 2023 deadline to finish the building projects.

About ten of the building have gotten to the roofing level where contractors are ready to start roofing.
Speaking to GhanaWeb, the Public Relations Officer of the committee, Thywill Quarshie explained that there are six contractors working on the rebuilding of the Apiate community being supervised by the Architectural & Engineering Services Limited (AESL), a practicing professional group of Consulting Architects, Civil, Structural, Electrical and Mechanical Engineers, Land and Quantity Surveyors as a consultant to the project.

He said, "when we go for site meetings, the works of the contractors are rated by AESL which gives pressure on other contractors to work very hard to meet the specifications of the project."

Thywill Quarshie is hopeful that the supply of materials will be frequent so that contractors can finish within the stipulated time.