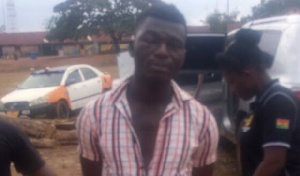 The Eastern Regional Police Command has arrested two suspected armed robbers believed to be connected to the Royal Motors daylight robbery after gun exchanges in Akyem Oda.
The suspects are Dormenyo Alfred and Felix Andy.

Alfred sustained gunshot injury on his right thigh during the shootout hence was admitted and treated at the Oda Government Hospital under Police guard. The Two suspects have been handed over to the Greater Accra Regional Police Command.

The Public Relations Officer of the Eastern Regional Police Command, ASP Ebenezer Tetteh told Starr News the two suspects were arrested on March 12, 2018 at about 7:40am at a spot between Akim Asanteman and Akim Aprokumase near Akim Asuboa while on board a Toyota Highlander vehicle with registration Number GR 8001-18, driving from Asamankese to Akim Oda.

He said the suspects engaged Police in a shootout upon sensing danger in which Dormenyo was hit in the right thigh The suspects were subsequently overpowered and arrested, while the vehicle is impounded.

Police search in the vehicle retrieved one flat screen TV and other items.
The Eastern Region seems to have become a haven for criminals after committing crimes in the Greater Accra region. As a result, ASP Ebenezer Tetteh said the regional Police Command has intensified its intelligence gathering network across the region monitoring suspicious characters entering and roaming in the area.

He said the action has helped in the arrest of many criminals on wanted list in Accra including the two Kwebenya Jail break escapees.