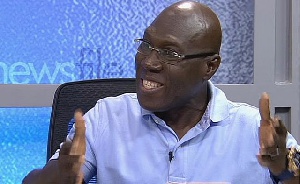 President Nana Addo Dankwa Akufo-Addo will be using the State of the Nation address in laying the foundation for his inability to fulfil the litany of promises he made to Ghanaians ahead of last year's elections, Inusah Fuseini, former Minister of Roads and Highways and Member of Parliament for Tamale Central, has said.
According to him, there is no way the president will be able to fulfil all the promises the NPP made ahead of the elections, hence the need to use the sessional address as the springboard to lay the grounds for the non-fulfilment of those promises.

The president is scheduled to deliver his maiden sessional address to the people of the Republic of Ghana, today, February 21.

He is expected to touch on how he would implement all the promises including the creation of one factory in each of the 216 districts across the country, the implementation of the Free Senior High School programme, reduction in taxes as well as job creation and several other promises.

Speaking on GHOne's State of Affairs hosted by Nana Aba Anamoah on Monday 20 February, Mr Fuseini said: "It will come to me as a surprise if the statement is going to contain some specifics of how he intends to implement his policies or promises through policy decisions because those policy decisions should be contained in the budget.
"Every government, since we went democratic, has blamed the previous administration on the basis of corruption – President Atta Mills did it, President Kufuor did it and Nana Akufo-Addo will do it. It was only President Mahama who didn't do it because it was the same party (that transferred power to him)."

However, Kojo Oppong Nkrumah, Member of Parliament for Ofoase Ayirebi, also commenting on the same programme said the president would not lay the grounds for his inability to fulfil those promises.

According to him, the NPP government under the leadership of Mr Akufo-Addo, will implement all the promises made to Ghanaians. He added that if need be, the president would explain to the people of this country the actual state of their nation, though that would not mean that the promises would not be fulfilled.