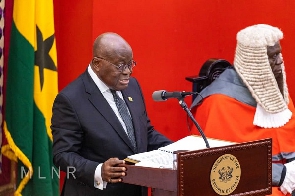 The President of Ghana, Nana Addo Dankwa Akufo Addo has refuted claims that Covid-19 funds have been misused.
He said this while delivering the State of the Nation's Address in Parliament on Wednesday, March 8, 2023.

"It is important to show clearly that the covid-19 funds, Covid funds were not misused. It is critical that we do not lose the confidence of the people that the crisis that we were all in together was abused for personal gains,"

He continued that,"It was government that asked for the covid fund to be audited and I can assure this House [Parliament] that nothing dishonourable was done with the Covid funds."
In other parts of his address, Akufo-Addo spoke about progress the government has made in the areas of infrastructure, economic management and fight against corruption.