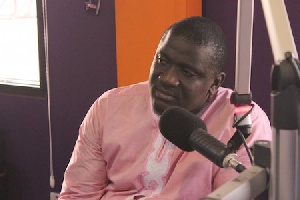 A deputy Communications Director of the New Patriotic Party (NPP) Anthony Karbo has revealed that some powerful persons around the party's Presidential Candidate, Nana Akufo Addo, are the cause of the NPP's woes.
He said it cannot be possible that the suspended National Chairman, Paul Afoko and General Secretary are the only ones responsible for the largest opposition party.

The NPP has not seen peace almost a year after its Congress with suspicion that the aforementioned party officers were out there to work against the interest of the NPP by scuttling the electoral victory of Nana Akufo Addo in the 2016 elections.

Mr Afoko whose conduct as a chairman was a subject of concern to the party, lead to his eventual indefinite suspension. There are reports of moves to get Kwabena Agyepong, who is a close associate of Mr Afoko also suspended.
But speaking to Fiifi Banson on Anopa Kasapa on Kasapa 102.3 FM, Anthony Karbo stated that some persons around Nana Addo will do the party a lot of good if they also conduct themselves well.

"Afoko and Agyepong are not the only cause of NPP problems. Some individuals around Nana are also causing problems for the party. We have had occasions to condemn their actions which we thought were not too good for the NPP."