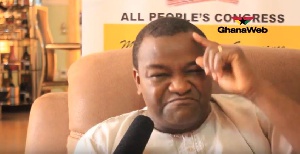 The founder and leader of the All People's Congress (APC), Hassan Ayariga has challenged the opposition New Patriotic Party (NPP) to sack its Northern regional chairman, Bugri Naabu, for alleging that President John Dramani Mahama and his brother Ibrahim attempted bribing him to run down his party's flag bearer Nana Akufo-Addo.
According to Mr Naabu, the president and his brother attempted bribing him with GHS 500,000 and brand new V8 and V6 cars to leave the NPP and badmouth Nana Akufo-Addo by describing him as an anti-northerner in the run up to the 7 December election.

Mr Ayariga, who has endorsed Mr Mahama's second attempt at the presidency, in defence of the president, described Mr Naabu's allegation as "absurd".

"Indeed, the unfortunate and unfounded allegation levelled against his Excellency John Dramani Mahama and his brother by the opposition NPP's Bugri Naabu is not only absurd and unworthy, but tantamount to undermining the integrity and honesty of the state," he said in a statement.
"I, Dr Hassan Ayariga, as a noble and patriotic citizen of the state and also the founder of the APC party, wish to put on record that people who misconducted themselves by conniving, condoning with the NPP, especially my General Secretary and others, were shown the exit under my watch. I believe he who alleges must prove beyond every reasonable doubt before a competent court of jurisdiction, hence the NPP leadership [headed] by Nana Akufo-Addo should emulate same by sacking Mr Bugri Naabu to demonstrate to all Ghanaians that they equally stand for social justice devoid of unfounded grapevine propaganda."

According to the APC flag bearer, political parties are required to frown on misconduct of their followers in order to give Ghanaians the needed peace for the collective development and benefit of all.

To that end, he stressed: "Dr Hassan Ayariga once again, without fear or favour, challenges the NPP to sack Bugri Naabu with immediate effect," adding: "Until the NPP sacks Bugri Naabu, they still remain a corrupt administration under Nana Akufu-Addo."