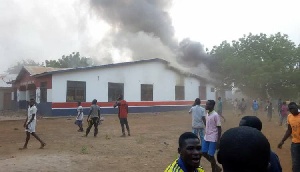 The Paramount Chief of Salaga, Kpembewura Bangbage IV, has rendered an unqualified apology to the President, Nana Addo Dankwa Akufo-Addo, the Yagbonwura and the entire Gonjaland for the action displayed by some youth in the Salaga South Constituency last Tuesday.
The youth burnt the Constituency's office of the New Patriotic Party (NPP) and some billboards of the president after the selection of Damongo as the capital of the newly created Savannah Region.

Seven of the youth have since been arrested and sent to Accra for prosecution.

In a statement on Thursday, the Kpembewura – in a twist of events – lauded President Nana Akufo-Addo for the creation of the Savannah Region.

He claims it has been a dream of previous leaders in Gonjaland for more than four decades.
"We wish to assure the president that we accept his decision to designate Damongo, the seat of the king of Gonja, the Yagbonwura, as the regional capital of the Savannah Region."

He described the action by the youth as "unruly" and condemned it roundly.

"We wish to appeal to the security agencies to carry out thorough investigations and bring the perpetrators to book."