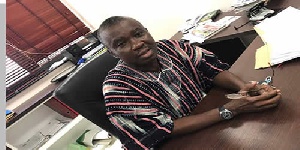 The chaos and violence that characterised the naming of the capital of the newly created Savannah region could have very easily cost him a huge opportunity of landing a Ministerial portfolio in the Akufo-Addo administration, Minister-designate for the Savanna region, Salifu Adam Braimah has said.
Several irate youth protested the citing of Damongo as the capital of the new region as opposed to Salaga which they believed deserved it considering it had an NPP candidate as its Member of Parliament.

Asked by Members of Parliament's Appointments Committee if his appointment was a move by government to compensate the people of Salaga following the chaos, he responded in the negative, maintaining on the contrary that his appointment could actually have been affected by earlier events.

"The violence there could have cost me this position because they actually could have asked if they (government) were endorsing violence. My choice was not a compensation, not this President".

Addressing concerns raised about the unfortunate incident that occurred on February 22, Mr. Braimah who doubles as Member of Parliament for Salaga-South noted that calm has since returned to the area.

He also expressed regret about the rather unfortunate incident whilst calling for massive education on that front to avoid subsequent repeat of the situation. "We've gone past violence, we've moved on but we need to educate the people to bring their emotions down. You are right about getting angry about something bad going on bit to go ahead and take such actions, it is not right", he said.

He assured utmost security in the Savannah region, noting that that he would work with the appropriate authorities and traditional rulers to ensure peace and calm in all areas within the region.
"Security is not a problem in Savannah Region. We are a peaceful lot, I think we shouldn't focus too much on the Salaga issue", he noted.



Salifu Adam Braimah was vetted by the appointments committee for the portfolio of the Savannah Region Minister.

He was vetted with three others, Yaw Afful, Deputy Minister for Aviation, Siaka Stevens, Deputy Minister-designate for the Bono region and Benjamin Yeboah Sekyere, Deputy Minister-designate for the Ahafo Region.

If approved, Salifu Adam Braimah will be substantive Minister for the Savannah region.