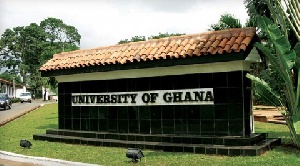 The President of the University Teachers Association of Ghana (UTAG) Dr. Harry Agbanu has downplayed concerns over the salary delays at the University of Ghana (Legon).
The University of Ghana has in a memo to staff noted it will be unable to pay the salary of workers in March after it borrowed to pay for January and February.

"Processing and release of the compensation subvention for January and February has been delayed. Therefore, payment for March 2018 salaries cannot be made as scheduled. It is not possible to borrow for a third month to pay salaries," the memo signed by the Registrar of the University of Ghana, Mercy Haizel-Ashia said.

Speaking to Francis Abban on the Morning Starr Monday, Dr. Agbanu said workers of the university have been assured that salaries will be paid by the end of the week.
"Mostly, our salaries delay for a week or two. Information from the Registrar General indicates that our salaries will hit our accounts by close of week. Because we were informed earlier about the delay, many made arrangements towards it. For about a year now, we are mostly paid on the 24th of every month but things have delayed this time round. Borrowing monies to pay salaries is not sustainable and the government must do something about that," he said.

He however noted lecturers object to suggestions that they should be put on the government payroll.

"Even though we are public sector workers, we are significantly different. We are public sector workers as University Teachers, paying us through the Controller will not help us in anyway. If we are with Accountant General, government will have to release money to have us paid. We've been advocating over the years that whenever there is going to be a delay in our salaries, we should be told earlier. We are happy we were informed earlier".