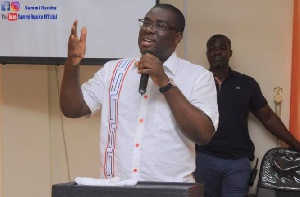 "It is commonplace for politicians to ordinarily relax once they are put in "charge," Sammi has proven to be an Organiser with a difference.
Praye revealed how he met Sammi through a reference, and placed a call to him at dawn and was surprised at how Sammi 'stunningly answered' his call" when he Praye wanted to pledge support for the Nana Addo Campaign and the NPP. Praye stated.

In his message to NPP Executives in the Volta Region, Praye told the delegates and reporters that he fully backs Sammi Awuku for his bid to be elected National Organiser of the NPP. "Let me begin, I am a native of the Volta Region, and I know how the people of the Volta have been deceived. Sammi Awuku has been an exemplary organisational figure in Ghana's politics. He gave the peoole here in the Volta Region and elsewhere, a voice in his 4 years as National Youth Organiser, supporting most youthful enterprises, especially in the creative arts industry of which I am a member," Praye intimated, drawing huge applause from the room full of enthusiastic delegates and reporters.

The hiplife star did not mince words when he sought to highlight Sammi's organistional capabilities. He stressed that having been the National Youth Organiser of the NPP; having mobilized millions of the youth for the 2016 election victory for the NPP and been the most accessible and approachable Youth Leader "Sammi was the organizer already in waiting and deserves the support of him Praye and their music group.

He appealed to the delegates to give Sammi Awuku an overwhelming support ahead of the June National Officers Elections, "No matter how staunch of a supporter you are of the NPP, you need a strong leader who can mobilise resources and people to win an election. But I know what Sammi Awuku represents: he represents organisational excellence in an extraordinary way. He's going to win and bring improvement into the way the NPP organises things." Praye further bemoaned that, many young people's conduct in the national discourse are currently "checking the youth out of politics," and that, there is an urgent need to reinvigorate trust in the youth to lead. "I am confident that Sammi can salvage this and make all of us proud.
He said these at separate meetings whiles Addressing delegates at various places within Sogakope, Ho, Hohoe and Dambai all in the Volta Region.

Also accompanying Sammi Awuku was Madam Mawusi Awity, Executive Director of NVTI who extolled the extraordinary organizational skills of Sammi.

Sammi Awuku who has hit the campaign trail is being accompanied by his trusted Deputy National Youth Organiser and Confidante, Salam Mustapha, Kwame Addo Frimpong (A Former Chief Vandal ) who is his Campaign Manager, Bonaventure Anane a Former NUGS Executive and Evans Amankwaa a Former JCR or Hall President of the Commonwealth Hall of the University Of Ghana and Hon. Adu Tawiah A Former DCE for Yilo Krobo.