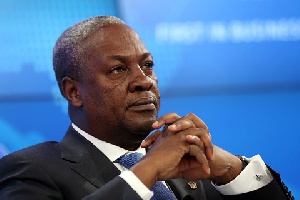 Director of Communications of the governing New Patriotic Party (NPP), Richard Ahiagbah, has described the most-talked-about Saglemi housing project as scandalous.
He said the housing project under the Mahama-led administration was poorly supervised.

Speaking on CitiFM's Eyewitness News, Mr Ahiagbah wondered how the Mahama government could construct only 1,500 housing units out of the approved 5,000 to the tune of US$200 million.

He said, "The whole thing [Saglemi housing project] is a scandal on its own because how do you go take a loan of $200 million to construct over 5000 apartments and end up constructing 1500 yet have expended the entire $200 million...The contract that parliament approved was for 5000 buildings but what we have there is somewhere in the neighbourhood of 1,500 and former president Mahama revised the contract without reference to parliament."

His comment comes on the back of accusations by former president John Dramani Mahama that the Akufo-Addo-led government intentionally failed to complete the Saglemi housing project and moved on with the Pokuase Housing Poject.

The Saglemi project, located in Prampram comprises 5,000 housing units.

The project was originally intended to provide mortgage arrangements for the housing units to be sold to employees through the Ghana Home Loans Company.
However, due to variations in the project, only about 1,506 housing units have been completed.

In November last year, the government washed its hands off the Saglemi housing project to allow a private developer to take over.

According to the Ministry of Works and Housing, the private developer will refurbish the housing units and sell them to potential owners.

On Wednesday, August 2, 2023, the Public Procurement Authority (PPA) gave its approval for the appointment of a transaction advisor to facilitate the sale of the Saglemi Housing project to a private sector entity.

This decision follows a directive from the cabinet to the Minister of Works and Housing to explore the possibility of disposing of the project.

The aim is to sell the project at its current value to a private sector entity, which will take on the responsibility of completing the housing units and selling them to the public at no further cost to the government.
ESA/NOQ

Watch the latest edition of BizTech and Biz Headlines below: