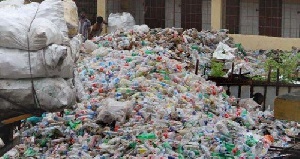 The Chief Executive Officer (CEO) of ASADU Royal Waste, Dr. Edward Asadu has appealed to government to scrap import duty on waste management equipment imported into the country by industry players.
Speaking in an interview with Rainbow Radio 87.5Fm, the man who has been in the industry for 15 years in Ghana and worked in Germany for 8 years, lamented over the exorbitant import duty charges on their imports.

According to him, the import duty is just unbearable and affecting them. Dr. Asadu told Rainbow Radio that, a waste collector which he paid GHc 70, 000 to clear, is now GHc 120,000.

According to him, Ghana is the only place in the world that its harbours charge very expensive duty charges.

He was of the view, government can either scrap the duty on waste management equipment, or import them and give to operators at very affordable rates.

He said, if the government is indeed committed fighting waste then it should consider his appeal.
The fight against filth he noted are a shared responsibility and cautioned against the politicization of the fight against filth in Ghana.

He further admonished government to partner with the private sector in improving upon the current situation in the fight against waste.

There are people who cannot pay for their waste and so it will be prudent for government to subsidize the fee for such households, he said. He also called for the enforcement of our by-laws to deter people from dumping their waste anyhow.

''If we can enforce our laws and allow people to be jailed for a day, it will prevent others from dumping their waste indiscriminately.''

Using the German example, he said, before one rents an apartment, the charges including utility, waste and rent are joined and the tenant pays before occupying the room, and if we can use that example, I think we can make a head way in fighting filth in Ghana.
The National Sanitation Day launched under the erstwhile NDC administration has not helped in managing the situation.

It was an opportunity for politicians to gather and take photos, he added. Waste management or sanitation must be done every hour and we will need all the agencies mandated by the constitution and the government to join forces in that regard.

He stressed that the government, the Accra Metropolitan Authority (AMA) and other stakeholders in the waste management industry need to act promptly and find a permanent engineering landfill site that could last beyond 10 years.