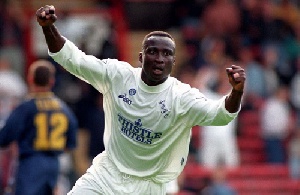 Former Ghana Football Association president, Awuah Nyamekye has shot down Anthony Yeboah's claims that he was the assistant captain during the 1992 Africa Cup of Nations.
Mr. Nyamekye, who doubled as the leader of the delegation for the Black Stars in the tournament spoke on the captaincy issues that many football pundits believe wrecked the country in the Afcon.

Ghana's hope of winning its fifth African Cup was dashed after losing 11-10 on penalties against Côte d'Ivoire.

A chunk of the players who participated in the tournament in Senegal including Anthony Yeboah and Sarfo Gyamfi attributed their defeat in the final to the captaincy rift.

Substantive captain Abedi Pele was suspended for the match against Ivory Coast and a last-minute decision saw Anthony Baffoe handed the armband.
But the former GFA President in an interview with Don Summer of Angel FM in Kumasi said he (Anthony Yeboah) was not the assistant captain.

"I have heard people saying Tony Yeboah was the assistant captain if Abedi Pele is the captain and Kwesi Appiah is there, who will be the assistant captain, is it not Kwesi Appiah? He quizzed

"I want to put it on record, Kwesi Appiah was the assistant captain, not Anthony Yeboah. How come Tony became assistant to Pele"

"We didn't make Kwesi Appiah the General Captain when we handed the armband to Abedi and Appiah was the assistant to Abedi. If anyone says (Appiah) was the general captain, then it is the imagination of that person" he added.