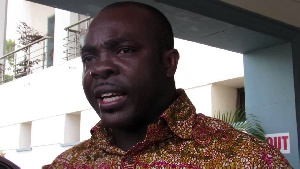 The Ministry of Youth and Sports is demanding an apology and retraction of what is said to be a defamatory statement made against the minister, Isaac Asiamah by the Alliance for Social Equity and Public Accountability (ASEPA).
ASEPA, in a statement signed by its Executive Director, alleged that the minister and some government officials engaged in bouts of sex with women from South Africa and Dubai while on national assignment in Egypt.

"When a fish rots, it rots from its head, several allegations coming out of reliable sources in Egypt indicates that the Minister for Youth and Sports who led the team of government officials and other technical staff and supporters to Egypt was the main man in the middle of this sex tourism debacle that rocked the camp of the Black Stars in Egypt".

"Women were being flown across all parts of Africa including South Africa and even Dubai just for sexual encounters with the Ministers and Government Officials all on taxpayers resources".

However, an aide to the Minister has described the allegations as false, unfounded and an attempt to tarnish the image of the Sports Minister.
He demanded an apology and served notice that the Minister will take legal action against the group should they fail to honour the demand.

"The statement issued by that pro-NDC organization is unfounded, baseless and completely untrue. This is done to tarnish the image of the hardworking Minister"

"I would like to wish the writer of the statement and his cohort that they should retract the statement this baseless and unfounded statement against the minister and his team as soon as possible. Failure to retract and render an unqualified apology to the minister, the only option that will be left is to proceed to court for them to prove what they've issued to Ghanaians" Dr Ahmed Osmanu said.