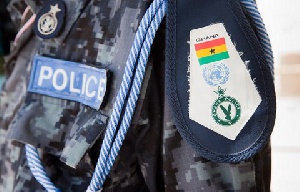 A former Commanding Officer of the Formed Police Unit of the Ghana Police Service Chief Superintendent (Rtd) Hamza Yakubu has advised the Inspector General of Police to fire Ghanaian peacekeepers accused of sexual abuse.
Ghana's 46-member team to South Sudan has been recalled as investigations are conducted into the allegations of sexual abuse by the contingent.

"The information received indicates that some members of the FPU (Formed Police Unit) allegedly engaged in transactional sex. This is a clear breach of the U.N. and UNMISS Code of Conduct which prohibits sexual relationships with vulnerable individuals, including all beneficiaries of assistance," a UN statement said.

It added: "UNMISS has informed U.N. headquarters in New York of the allegations, which in turn notified the Member State that the matter was being investigated by the United Nations. There is no indication that this behavior is more widespread within the Mission."

Reacting to the news, Chief Supt Yakubu said the offense is grievous and must not be entertained.
"I'll highly commend the police administration if they are fired. This is a major offense… I think that such people should be fired. They should be fired entirely," the no-nonsense retired police capo told Accra-based Citi FM.

Meanwhile, in an interview with Starr News, Chief Supt Yakubu blamed the sex scandal on poor leadership.

"What went wrong, I'll attribute it to weak leadership. Did this matter just occur in a day? I don't believe so and I think there was a series of it… it means that there might have been a build up to all these things.

"What we don't know is that were there any indication that these people were misconducting themselves and if so what did leadership on the ground do?" Chief Supt Yakubu said on Starr Today.