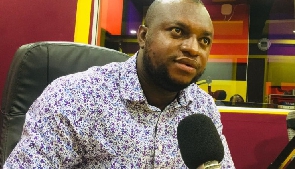 Yaw Brogya Genfi, a National Communication Member of the opposition National Democratic Congress (NDC) has revealed that, the Comprehensive Sexuality Education (CSE) course which has been clarified as not part of basic schools' curriculum was 'shamefully' withdrawn by President Akufo-Addo after succumbing to public pressure.
In a submission on Kumasi-based Pure FM with Sit-in host Kojo Marfo monitored by MyNewsGh.com, the former Ashanti Regional Youth Organizer of the party stated that, President Akufo-Addo tried inculcating an acceptance of Lesbian, Gay, Bixesual and Transgender (LGBT) and other heighten sexual immoralities in the Ghanaian culture but has had his grand scheme graciously widely rejected by Ghanaians and as a result used the Education Ministry to do damage control and withdrawn the policy.

"Have you ever heard President Akufo-Addo stating his position on LGBT rights and whether Ghana will accept it or not like President Mills and John Mahama did? Do you remember that Boris Johnson was the first envoy that visited him when he was sworn in as President of this country? Kojo, as cunning as he is, he wanted to smuggle the acceptance of this immortality into our culture. Ghanaians are wide awake more than ever and has seen him for who he really is.

Kojo, you see how widely they have rejected this CSE forcing the innocent Napo to do the face saving for him. This is bad for the government and I don't know the people who keep advising them to push unpopular policies like this." He stated.

Brogya Genfi further listed a series of 'unpopular' policies that the government withdrew after it was greeted with mass displeasure.

"Kojo, this CSE forced withdrawal comes to add up to a host of unpopular policies this incompetent government have been forced to withdraw by Ghanaians and more or less taught how to govern.

They withdrew the luxury vehicle tax, the unpopular compulsory DVLA first aid kit to say the least and now this.
I say this without any equivocation that this Akufo-Addo led administration is an apology of a government." He added.

However, the Government has clarified that the approved curriculum framework for basic schools does not include a supposed introduction of Comprehensive Sexuality Education (CSE).

Addressing the media in Accra on Tuesday, October 1, covered by MyNewsGh.com, the Education Minister, Dr. Matthew Opoku Prempeh, noted that "no teacher was trained on Comprehensive Sexuality Education."

"The curriculum framework from KG to P6 that has been approved by Cabinet from the National Council for Curriculum and Assessment for use in the development of school curriculum and published on NACA website does not include anything on Comprehensive Sexuality Education."

"The curriculum that has been developed out of the framework for use by the Ghana Education Service in all public schools and approved by cabinet and as published does not include comprehensive sexuality education. NACA has not approved any material on Comprehensive Sexuality Education as it is not included in the published curriculum framework," the Minister insisted.