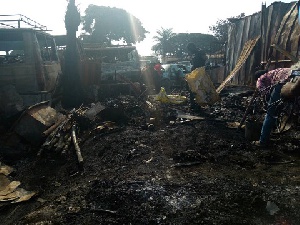 Artisans and traders at Suame Magazine in Kumasi are counting their losses after fire razed their shops down Saturday night.
About five vehicles are among property destroyed in the blaze.

Thousands of cedis worth of materials and cash were completely burnt in the inferno.

A trader, Adwoa Domah who is into spare parts sale has lost entirely her shop to the fire.

Her items worth thousands of cedis were burnt beyond recognition.

"I have lost everything. More than 100, 000 cedis vehicles spare parts have gone waste. How do I pay my debt?" She wept.

Adwoa was not alone. Noah Frimpong, Adwoa Yamedo and Kwadwo Aboagye were among victims of the fire.
Kwadwo Aboagye for instance, has lost close to 300,000 cedis worth of spare parts to the inferno.

Though he was devastated, he believed the will of God is not the will of man.

"Well, it has happened. Every disaster comes with its own blessings."

All we need now is help to start again." He appealed.

It was a sad day and moment for them as they kept wondering how to raise money to start all over again.

For the past years, fire outbreaks at the Kumasi magazine have left many traders and artisans traumatized.
Some could not get back to their feet and life remained same several months after the incidents.