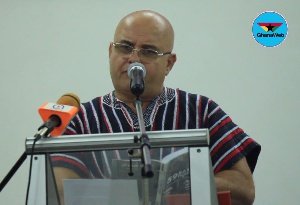 Ghanaian-Lebanese and sympathizer of the ruling New Patriotic Party (NPP) with close links to the presidency, Fadi Daboussi has called on the United States to shove their $190m PDS grant in support of the Ghana Power Compact into their backside.
He was reacting to a news story that the U.S $190 million grant for PDS is no longer available after Akufo-Addo government decided to terminate the concession agreement. The money was meant to help Ghana improve its power sector with the long goal of making power affordable and efficient.

Fadi believes none of that is true, as the U.S had other motives.

In an article authored by Fadi Dabbousi sighted by MyNewsGh.com, the NPP member said, "well, guess what, as they say in American slangs, "they can shove that 190 million USD up where the moon don't shiiiiiine"!!!"

According to him, the U.S knows Ghana is bound to be another Malaysia under Akufo-Addo for which reason the U.S wants to toil with Ghana's sovereignty, adding that the US enjoyed under NDC because NDC minds "ejaculated filth".

"They [U.S] know that Ghana would be another Malaysia under President Akufo-Addo, so the Americans are using "Millennium Challenge Corporation Compact", MCCC, as the trump card to threaten the sovereignty of our country." He explained.

Mr. Dabbousi called on Ghanaians not to be "U.S puppets" but should rally around ECG as the company is already doing well under its current management.
"Let the Electricity Company of Ghana continue to run without interference from any third party leech. After all, the current management under the chairmanship of, Keli Gadzekpo, and the Managing Director, Ing Boakye-Appiah, were, and still, are, doing a magnificent job, keeping Dumsor at bay… Let us not be puppets in the hands of Americans and the neo-colonialists who have Africa in their grip, tearing at us with their cannibalism and immorality." He added.

Mr. Dabbousi who is a well-known critic of the opposition leader John Mahama, said the "Americans thought they could twist our arm where it hurts most by threatening to cancel the 190million US Dollar tranche that was due Ghana under the "MCCC" account…" he asked.

In his opinion, the U.S brought the MCC cash "to consolidate their grip on Africa, and Ghana, in light of the massive Chinese presence on the continent".

"The astuteness and extreme competence of President Akufo-Addo, though, took them by storm. They thought that he would be yet another John Mahama, who would allow them unfettered control of the country to stage their immorality and LGBT farce," he wrote.

He added: "President Akufo-Addo has sacked PDS! I have never once lost faith in him because he is ordained with a sense of nationalism, loyalty, patriotism, and unrelenting love for Ghanaians. He will never betray this great nation! He heard our cries, and did the needful."