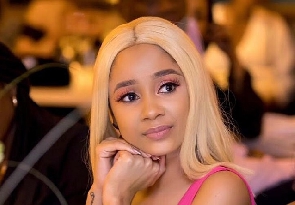 Ghanaian singer cum socialite, Sister Derby, has come under renewed attack following her release of snippets of her pro-LGBTQ song on the internet.
In July 2021, Sister Derby and her brother, Wanlov the Kuborlor featured on a popular Ghanaian transgender, Angel Maxine's song.

Earlier when conversations pertaining to the passage of an anti-LGBTQ bill was rife on social media, Ghana's first openly transgender, Maxine Angel Opoku released a song in response to the proposed legislation.

Ms. Opoku released a song titled "Wo Fie," which means "in your home," in the Akan language, one of the most widely spoken languages in Ghana.

"Wo Fie" talks about how LGBTQ persons may be part of every family, and calls for tolerance and respect. In the lyrics, Ms. Opoku sings about being unapologetically herself while being backed by Sister Derby and Wanlov.

During that same period, Sister Derby, and leading anti-LGBTQ advocate in parliament, Sam George, were locking horns on social media.
But almost two years down the lane, Sister Derby has taken to social media to create awareness and revive the pro-LGBTQ agenda.

Unclear what necessitated her post, she took to Instagram and shared snippets of the 'Wu fie' song with the caption

" It's nice to be niiice".

This development has since stirred wild reactions online amidst backlash and criticisms.

Some netizens who seem unhappy about the development have asked Sister Derby to stop forcing the LGBTQ agenda down the throat of Ghanaians.
"Anyone can be gay, granted and no yawa but why do y'all want to force someone's sexuality on Ghanaians? If it was a normal "distin" there wouldn't be a reason to advertise their sexuality. Do you see heterosexual ppl going about and parading their sexuality? Let them do their gay things. It's their preference and choice and but Ghana as a country does not accept this act. Stop forcing it on them with this yawa song. At least be innovative and come up with an original mpo err madam,' one Twitter user wrote.

"Chale stop that nonsense , God created Man and woman . Man marries woman . . Stop nonsense," tweeted another.

Check out the post below:






EB/BB