Sitting on 'stinking' Frimpong-Boateng report for 2 years 'magnifies' Akufo-Addo's 'complicity in galamsey scandal' – NDC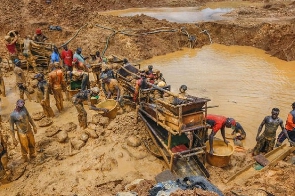 President Nana Akufo-Addo's "complicity" in the whole galamsey scandal is "further magnified" by the fact that the "stinking" Prof Kwabena Frimpong-Boateng report "has been on his desk since 2021, yet he has woefully failed to act on same", the main opposition National Democratic Congress has said.
At a press on Tuesday, 25 April 2023, the biggest opposition party's national communications officer, Mr Sammy Gyamfi, said: "If there was any doubt that the so-called fight against illegal mining by the Akufo-Addo/Bawumia NPP government has been a sham, then this is the clearest evidence, yet again".

He said the 37-page report "confirms one truth – that illegal mining activities have been a free-for-all enterprise for many in the Akufo-Addo/Bawumia NPP administration".

"From ministers, presidential staffers and other associates in government, to national, regional, constituency and even unit committee executives of the New Patriotic Party, their agents, personal assistants, relatives and financiers, many have been cited to have either engaged in or promoted illegal mining with reckless abandon", Mr Gyamfi told journalists.

The report named topshots such as the director of operations at the presidency, Mr Lord Commey; a former MP in the Ashanti Region, Mr Aĺbert Quarm; Mr Gabby Asare Otchere-Darko, a nephew to the president; Mr Kojo Oppong Nkrumah, information minister among others as those who were either neck-deep in galamsey or promoting, protecting and frustrating the galamsey fight.

Mr Gyamfi said: "The details of this report are simply scandalous, scary, sordid, pervasive and rotten to the core".

"We now know how the 500 seized excavators were sold by people entrusted to take care of those seized equipment".

He said: "There is now ample evidence about how military and police officers and other men in uniform who were funded by the state and tasked to help fight galamsey, were rather used to protect illegal mining sites belonging to government and NPP officials and their foreign collaborators".

"It is sad to note that Ghana today has a commander-in-chief who sends soldiers into harm's way for parochial gain".

"Major Mahama's death and misuse of Ghanaian soldiers by this 'Galamsey' Government is another reason" for a public enquiry into the report, Mr Gyamfi noted.

He indicated that the Frimpong-Boateng galamsey report has, indeed, "shocked the conscience of the nation, and no amount of half-witted and half-hearted explanations from the presidency or government can whitewash this great infamy".

"We are of the view that the only way to establish the truth and get to the bottom of the issues contained in the Frimpong-Boateng report, is for parliament to institute a publicly-televised and bi-partisan enquiry into this report, which essentially is an obituary of President Akufo-Addo's monumentally failed fight against illegal mining".

The Special Prosecutor, the party demanded, "must act with alacrity by probing the Frimpong-Boateng Galamsey report and prosecute all government officials, NPP functionaries and persons who have perpetrated serious crimes against the state as contained in the report".

"The Ghanaian people deserve this probe because millions of taxpayers' money has gone down the drain in the name of fighting illegal mining".

"Now that it has been confirmed that all the so-called fight was a charade, our nation stands united in crying for justice. Anything short of a bi-partisan enquiry into this matter, will be fiercely resisted", Mr Gyamfi added.

He said: "Any country that has no firm grip over the protection of its forests, nature reserves, wet lands and biodiversity, is one that is doomed to extinction".

"It is sad to say that Ghana is fast approaching this scary reality under the Akufo-Addo/Bawumia NPP administration, who are busy destroying all our vegetative buffers to satisfy their greed and selfishness".

Read below the full report:
SPECIAL PROSECUTOR AND PARLIAMENT MUST PROBE FRIMPONG BOATENG'S "GALAMSEY" REPORT AND ALLEGATIONS OF MONEY LAUNDERING INVOLVING PRESIDENT AKUFO-ADDO IN THE LATEST "GOLD MAFIA" UNDERCOVER INVESTIGATION BY AL JAZEERA.

AL JAZEERA'S GOLD MAFIA INVESTIGATION

Good morning to you, our media partners here present, in the sixteen regions of Ghana and across the world.

The National Democratic Congress (NDC) has sighted an undercover investigative work that was recently broadcast by international news network, Al Jazeera. The said documentary forms part of a fourpart investigation by Al Jazeera's Investigative Unit (I-Unit), which uncovered an international Gold Smuggling mafia and Money Laundering racket operating in various parts of Africa.

Friends from the media, of particular concern to us and indeed, the people of Ghana, is the reference to a relationship between the deadly racket and the President of Ghana, His Excellency Nana Addo Dankwa Akufo-Addo and other high-ranking officials of the ruling NPP government.

In the One-hour, thirteen-minute video documentary, one Alistair Mathias who has gained notoriety for designing money laundering schemes for corrupt African Leaders, could be seen boasting about his close relationship with President Akufo-Addo and other high-profile African leaders.

In the particular portion of this new investigative documentary that has got many tongues wagging, the said Alistair Mathias who is described as a Canadian citizen and a financial architect operating a gold smuggling syndicate in Ghana called Guldrest, confided in Al Jazeera undercover reporters who posed as Chinese Businessmen, about his constant dealings with President Akufo-Addo.

Some of the underhand dealings this shady character revealed include how the Akufo-Addo/Bawumia NPP government for instance can award his company, Mathias Holdings an inflated contract worth $100 million, which he in turn subcontracts to another company for a value of about $80 million, thereby making a staggering profit of $20 million on the contract.

Friends from the media, the mastermind of these crimes further revealed how the padded amount on such deals is then shared among the parties – corrupt officials in the Akufo-Addo/Bawumia government on the one hand, and Mathias Holdings on the other hand. Under this criminal scheme, Mathias further undertakes to bank the share of his corrupt collaborators in the Akufo-Addo/Bawumia government in offshore accounts until such a time that the money is needed by them.

This is how grand corruption is created by elements in the Akufo-Addo/Bawumia government, who inflate contracts and then deposit the stolen funds in the form of "commissions" with this devious individual whose operations span across other African countries. And by the way, commissions in this gold smuggling, money laundering and illicit business context simply means bribe.

As if the above dealings were not scandalous enough, we further gleaned from the documentary how supply and procurement contracts are awarded to this knavish partner of the Akufo-Addo/Bawumia Presidency, who constantly returns kickbacks from these inflated contracts through their elaborate corrupt network at the expense of value for money and the good people of Ghana.

Ladies and gentlemen, the nefarious Alistair Mathias further confessed to how he manages to smuggle one ton of gold with a face value of $40 million from Ghana, every month, with the active collusion of high-ups in the Akufo-Addo/Bawumia NPP government and in collaboration with one Kamlesh Pattni, an Indian man domiciled in Kenya, who is described as the grandmaster of the Gold Mafia.

This development, my fellow countrymen and women, adds to a litany of similar acts of grand corruption and collusion involving President Akufo-Addo, the Vice President, Dr. Mahamudu Bawumia and other high-ranking NPP government officials.

Ghanaians have not forgotten about the Number #12 documentary by ace Investigative Journalist, Anas Aremeyaw Anas, in which former President of the Ghana Football Association, Kwesi Nyantakyi was nabbed in similar fashion negotiating kickbacks from supposed investors for President Akufo-Addo and other government officials.

Again, and of very recent memory is the "Galamsey Economy" undercover investigation by the same Anas Aremeyaw Anas, in which a serving Minister of State at the Finance Ministry, Charles Adu Boahen is captured on video negotiating bribes and "Appearance Fees" to the tune of $250,000 from supposed investors for and on behalf of the Vice President, Alhaji Mahamudu Bawumia.

The question every objective Ghanaian should be asking, is how come the names of the President and his Vice, keep popping up in such shady deals and corruption scandals? Why always them? It could neither be mere speculation nor influence peddling any longer. This trend that has now received such unenviable global publicity, must worry every well-meaning Ghanaian.

We in the National Democratic Congress are deeply concerned about the damning revelations about our President in this latest documentary by Al Jazeera. The continuous naming of the President and his Vice in all manner of bribe-taking syndicates, must be a cause for concern for every patriotic Ghanaian who cares about the image of the Presidency.
Ladies and gentlemen of the media, Al Jazeera's earth-shaking findings also give currency to the justifiable concerns raised about government's opaque Gold-for-Oil deal which many experts, civil society organizations and the NDC have had legitimate grounds to criticize and demand transparency and accountability.

Never in the history of our country has the Presidency been reduced to a criminal Mafia as we are witnessing today. As has become standard practice under the Akufo-Addo/Bawumia NPP government, the Presidency has kept a deafening silence on this matter in the wake of the damning revelations contained in the Al Jazeera documentary.

Given the record and penchant of this government to coverup graft, Ghanaians cannot and must not accept silence or the usual flippant denials emanating from the Presidency or government corridors on this matter. It is against this backdrop that the NDC hereby calls on the Special Prosecutor to take keen interest in this matter and launch a full-scale investigation into this matter with the aim of prosecuting anyone found culpable.

Given the considerable public interest in this matter and what it portends for Ghana's image among the global comity of nations, we wish to call on Parliament to set up a publicly-televised and bi-partisan probe into this matter in order to ascertain the truth.

We hold the view that a Parliamentary probe is imperative to establish:

1. The number of companies owned by Alistair Mathias in Ghana.

2. Which government contracts have been awarded to companies owned by Alistair Mathias since their inception in the country?

3. The propriety or otherwise of the activities of companies owned by Alistair Mathias, among others.

We invite President Akufo-Addo, his handlers and the people at the corridors of power to wholeheartedly embrace our call for a bi-partisan probe into this serious matter, if indeed they so believe nothing untoward has been occasioned the State and that, they have nothing to hide.

FRIMPONG BOATENG'S GALAMSEY REPORT

Ladies and gentlemen, it is our well-considered view that the explosive revelations contained in Al Jazeera's Gold Mafia investigative piece explain why the President's supposed fight against galamsey has been a spectacular failure. It explains why Ghana has become the epicenter of gold smuggling in Africa.

Galamsey was obviously bound to flourish under the corrupt Akufo-Addo/Bawumia regime because it was a central source of the illegal gold purchases used in this complex money laundering scheme orchestrated by powerful political dark forces in high places. As we in the NDC have always maintained, President Akufo-Addo's proclaimed fight against galamsey was the biggest scam ever to be perpetrated on Ghanaians.

Today, the NDC stands vindicated as a report authored and presented by the former Minister of Environment and Science and former Chairman of the Inter-Ministerial Committee against Illegal Mining, Prof. Frimpong Boateng has all but confirmed our long-held position that there has never been any genuine commitment or any attempt to fight galamsey by this government. The said report by the German trained Cardiothoracic Surgeon shows clearly that, the so-called fight against galamsey was a charade calculated to enable top government and NPP functionaries to appropriate and takeover the illicit galamsey trade.

Ladies and gentlemen, for the sake of brevity, we shall only highlight eight (8) of the several damning revelations contained in the Frimpong Boateng report today and deal with the rest in subsequent media engagements:

Friends from the media, you would recall, that President Akufo-Addo placed a moratorium on April 1, 2017, suspending artisanal and small-scale mining in the country for a combined period of one year, three months. Strangely however, Frimpong Boateng's galamsey report tells us that in 2018, this same Akufo-Addo government acting through the Forestry Commission and the Ministry of Lands and Natural Resources, somehow contrived to give out all forest reserves in Ghana for mining activities.

During the period that the ban on small scale mining was in force, more illegal miners, including Chinese gangs invaded our forest reserves with the help of government officials and caused unprecedented destruction to our forests, water bodies and environment.

As the former Environment Minister puts it in his report, never in the history of Ghana have the nation's forest reserves been subjected to such obscene rape and wanton destruction in the name of Galamsey as we have witnessed under the Akufo-Addo/Bawumia government. 2. Fellow countrymen and women, the former Environment Minister and Chairman of the defunct IMCIM, has provided further and better particulars of persons, both high and low, who are neck-deep in this nation-wrecking business of 'galamsey'.
The report specifically names appointees at the Jubilee House, such as Laud Commey, Director of Operations at the Presidency, a Presidential Staffer, Charles Nii Teiko Tagoe and Frank Asiedu Bekoe aka "Protozoa", Special Aide to the Chief of Staff who have been actively supporting and promoting illegal mining.

We in the NDC have always known, that the political economy of galamsey in this AkufoAddo/Bawumia NPP government, is made up of the high and mighty in places of power and influence, who will stop at nothing to sabotage any effort at fighting the canker, because of what they benefit from it. Time without number, Anas Aremeyaw has exposed this cabal, you in the media have done same.

Civil society and the political divide have all provided one form of evidence or the other, but President Akufo-Addo has simply refused to act. You know why? The President has refused to act because he is the chief mastermind and ultimate beneficiary of the nefarious galamsey activities of his government and party functionaries.

Ladies and gentlemen, the Prof. Frimpong Boateng report is also categorical about the very well-known illegal mining activities of former Chief Executive Officer of the Forestry Commission, the late Kwadwo Owusu Afriyie aka Sir John and his erstwhile Aide, Charles Owusu who doubled as Director of Operations at the Forestry Commission.

The report avers that, these two men while at the helm of affairs at the Forestry Commission, did everything to sabotage the fight against illegal mining, and instead granted forest entry permits to small and large-scale mining companies, including Chinese gangs who were brought in to mine on their behalf, at a time there was an active ban on such activities.

Ladies and gentlemen, the report further cites the "unwholesome behaviour" of some Members of Parliament and Government Appointees, who are all neck-deep in promoting the galamsey menace for selfish gain.

Of specific mention was the activities of Former Member of Parliament for Manso Nkwanta, Hon. Joseph Albert Quarm, who is reported to have used his position as then member of the Minerals Commission Board to acquire several dozens of large-scale mining concessions in his district under the guise of community mining. He is reported to have sold these concessions to private individuals, including his party members for about Two Hundred Thousand Ghana Cedis per concession (GHS200,000).

Perhaps the biggest obstructionist to the fight against illegal mining cited by the report is nephew of President Akufo-Addo, Gabby Asare Otchere Darko. The report recounts how Mr. Otchere Darko placed a call to the then Minister and Chairman of the IMCIM to intervene on behalf of a company known as Heritage Imperial Limited, which was destroying the environment and causing havoc to the River Offin in the Kobro and Apaprama forest reserve in the Amansie area of the Ashanti Region.

The owner of the company in question, one Donald Entsuah, was co-owner of another company by name C&J Aleska, which had previously caused extensive damage to the Diaso forest reserve in the Central Region, under protection from men of the Ghana Armed forces. The report reveals how the late Major Maxwell Mahama lost his life while offering protection to mining concessions owned by this C&J Aleska company in the Denkyiraboase area in 2017.

Our sympathies go to the late Mahama's widow, children and family. Having been successfully dislodged from the Diaso forest reserve by the task force of the IMCIM, the Frimpong Boateng report notes that this same Donald Entsuah quickly formed his latest company, Heritage Imperial Limited, which has equally been at the heart of extensive destruction of the Kobro and Apaprama forest reserve in the Amansie area, operating with a prospecting license and under heavy military protection. We are talking here about a company and its owner with a history of engaging in illegal mining under the pretext of prospecting.

On 29th November 2016, Mr. Toni Aubyn, then Chief Executive Officer of the Minerals Commission during the NDC administration, wrote to C&J Aleska that the Company was "seriously engaged in illegal mining on its prospecting licence". On 30th January 2017, Mr. Aubyn wrote again to C&G Aleska for "undertaking mining activities illegally without obtaining all the requisite permits and approvals".

Again, on 2nd October 2017, Hon. John Peter Amewu, the first NPP Minister for Lands and Natural Resources wrote to G&G Aleska regarding the Dwuabo concession and directed that "in view of the fact that C&G Aleska does not have a valid Mining Operating Permit, and that the Ministry has not yet ratified your mining lease, you are directed NOT TO CARRY OUT ANY MINING OPERATIONS in the concession until your mining lease has been ratified."

Ladies and gentlemen, the mining activities of this company have resulted in the destruction of these two forest reserves, and the diversion of the course of the Offin River. Yet, this is the company the President's nephew, Gabby Otchere Darko sought to shield and defend. What Gabby Otchere Darko sought to do was to essentially use his influence in the AkufoAddo/Bawumia government, to defend a company which has been responsible for the destruction of the Diaso, Kobro and Apaprama forest reserves.

Mr. Otchere Darko's impunity must be called out and condemned by every well-meaning Ghanaian. Here is a company destroying our environment, yet enjoys protection from the military and no less a person than President Akufo-Addo's nephew. What is even more condemnable but unsurprising, is the fact that Otchere Darko's behaviour was said to have been reported to President Akufo-Addo, yet he failed to rein in his errant and obstructionist nephew.

How could the President have reined Gabby in, when his actions and inactions clearly show that he is himself an enabler, promoter and beneficiary of galamsey? 6. Ladies and gentlemen, the Frimpong Boateng report also fingered very senior and leading figures within the Akufo-Addo/Bawumia NPP government, for allegedly acting in ways that essentially compromised the fight and rather promoted the activities of people who were engaged in illegal mining.

Former Senior Minister and now Presidential Advisor, Hon. Yaw Osafo Maafo, for instance is cited by the report to have allegedly used his influence to rather defend and whitewash an alleged money laundering activity by one Seth Mantey, a journalist who was arrested for laundering money from the sale of seized excavators.

This he did on behalf of one John Ofori-Atta, then Regional Security Coordinator for the Central Region and Horace Ekow Ewusi, former Vice Chairman of the NPP in the Central Region, who was indicted by Frimpong Boateng for the 500 missing excavators. In similar vein, Mr. S.K Boafo, a leading member of the New Patriotic and then Board Chairman of the Minerals Commission, was also cited for allegedly sabotaging the work of the IMCIM relative to the implementation of a successful community mining programme.
Friends from the media, it is sad to note that the Frimpong Boateng galamsey report identifies the Eastern Region, President Akufo-Addo's own backyard, as the headquarters of almost intractable and uncontrollable illegal mining activities. At the center of these activities are several New Patriotic Party bigwigs and government functionaries, notable among whom is alleged to be Capt. Kodah of the Presidential Security detail. He is reported to have demanded the release of excavators being used by illegal miners at Anyinam, who discharged mining residue directly into the Birim River. The said illegal mining site allegedly belonged to the MP for Asene Akroso Manso, Hon. George Kwame Aboagye, according to the report.

Perhaps, the height of impunity was when an NPP Youth Organizer for Kyebi was said to have been excavating for gold in the backyard garden of President Akufo-Addo's house in Kyebi. Yet, President Akufo-Addo got no wind of this from National Security or his elaborate security detail. As I have already indicated, the only thing that can explain this scandalous revelation is that, President Akufo-Addo is himself complicit in the illegal mining menace.

CONCLUSION

Ladies and Gentlemen of the media, if there was any doubt that the so-called fight against illegal mining by the Akufo-Addo/Bawumia NPP government has been a sham, then this is the clearest evidence, yet again. The report confirms one truth – that illegal mining activities have been a free-for-all enterprise for many in the Akufo-Addo/Bawumia NPP administration.

From Ministers, Presidential Staffers and other associates in government, to National, Regional, Constituency and even Unit Committee Executives of the New Patriotic Party, their agents, Personal Assistants, relatives and financiers, many have been cited to have either engaged in or promoted illegal mining with reckless abandon. The details of this report are simply scandalous, scary, sordid, pervasive and rotten to the core.

We now know how the 500 seized excavators were sold by people entrusted to take care of those seized equipment. There is now ample evidence about how military and police officers and other men in uniform who were funded by the state and tasked to help fight galamsey, were rather used to protect illegal mining sites belonging to government and NPP officials and their foreign collaborators. It is sad to note that, Ghana today has a commander in chief who sends soldiers into harm's way for parochial gain.

Major Mahama's death and misuse of Ghanaian soldiers by this "Galamsey" Government is another reason for the public enquiry. Ladies and gentlemen, the Frimpong Boateng galamsey report has indeed shocked the conscience of the nation, and no amount of half-witted and half-hearted explanations from the Presidency or government can whitewash this great infamy.

President Akufo-Addo's complicity in this whole scandal is further magnified by the fact that this stinking report has been on his desk since 2021, yet he has woefully failed to act on same. Ladies and gentlemen, we are of the view, that the only way to establish the truth and get to the bottom of the issues contained in the Frimpong Boateng report, is for Parliament to institute a publicly-televised and bi-partisan enquiry into this report, which essentially is an obituary of President Akufo-Addo's monumentally failed fight against illegal mining.

The Special Prosecutor on his part, must act with alacrity by probing the Frimpong Boateng Galamsey report and prosecute all government officials, NPP functionaries and persons who have perpetrated serious crimes against the State as contained in the report. The Ghanaian people deserve this probe, because millions of tax payers' money has gone down the drain in the name of fighting illegal mining. Now that it has been confirmed that all the so-called fight was a charade, our nation stands united in crying for justice. Anything short of a bi-partisan enquiry into this matter, will be fiercely resisted.

Any country that has no firm grip over the protection of its forests, nature reserves, wet lands and biodiversity, is one that is doomed to extinction. It is sad to say, that Ghana is fast approaching this scary reality under the Akufo-Addo/Bawumia NPP administration, who are busy destroying all our vegetative buffers to satisfy their greed and selfishness.

As a further step to back our demands, the NDC shall formally submit a request to both the Parliament of the Republic of Ghana and the office of the Special Prosecutor to initiate the necessary investigations into the Gold Mafia documentary as it relates to Ghana and the Galamsey report of Prof. Frimpong Boateng.

It is our fervent hope and firm belief that, these very serious issues will not be swept under the carpet, and that the Special Prosecutor and Parliament will rise to the occasion in order to stop the continuous desecration of our Presidency and environment by President Akufo-Addo, his Vice, Alhaji Mahamudu Bawumia and the ruling New Patriotic Party.

We thank you for your attention.

Signed.

SAMMY GYAMFI ESQ.

NATIONAL COMMUNICATIONS OFFICER

Source: Classfmonline.com