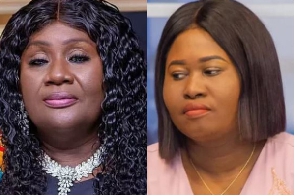 On Metro TV's Good Morning Ghana Show on Monday, August 14, 2023, member of the New Patriotic Party (NPP) Frances Essiam took exception to the National Democratic Congress (NDC's) Beatrice Annan attempt to claim that the Bank of Ghana working in concert with the Economic Management Team of Government were lawless resulting in the GHC 60.8 billion loss the Bank of Ghana (BoG) made in the 2022 financial year.
She had explained that the Finance Minister and the Governor knowingly breached the public financial management act by spending beyond legal limits and working to write off the debts of the Government without parliamentary approval.

This provoked a seething Essiam even further: "…What do you do for Ghana for you to open your mouth and spew garbage? What do you mean?… You come and sit here with your full checks, bright face and begin to insult people?

"She (Beatrice Annan) is a criminal…When you impugn criminal to a whole political party?… It's so offensive to call a group of people lawless. Are you their classmates?

"Are you their pedigree? To be calling Ken Ofori-Atta lawless? She's spewing baseless propaganda. You don't have even one basis point," she interjected.

The interventions of the host, Annie Ampofo failed to restore order and while a shocked Beatrice Annan remained quiet, she continued:
"But for you a small girl to be sitting down and calling people lawless? As a lawyer what proof do you have? Strict proof?" She shouted.

In reaction, a rather well-composed Beatrice stated that she had taken note of her insults but had no reply except to say that she was not going to allow her to use her to revive her political career.

"She can't use me to revive her dead political career. That I won't allow," Beatrice Annan stressed.

This reply angered Frances Essiam even further so retorted that she had no dead career and was not interested in any elective position in the NPP.

The show continued and Ms Essiam continued to heckle and in invectives as and when she desired.
You can also watch the latest episode of Everyday People on GhanaWeb TV below: