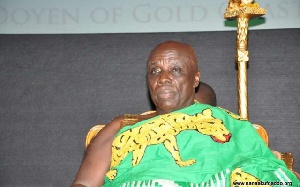 The national association of Small scale miners has described as unfortunate an appeal by the Okyenhene Osagyefo Amoatia Ofori Panin for government to put a freeze on small scale mining in the country.
The suggestion comes amid an intensified multi-sectorial campaign for government to clamp down on galamsey to save the country's water bodies and lands.

Speaking to the Daily Graphic, the Okyenhene said the fight against galamsey will not be won if government fails to freeze small scale mining, arguing that there is no difference between the two forms of mining.

But the Small Scale miners argue that the Okyenhene is only making the call because he lacks a proper understanding of the differences between the two.
General Secretary of the group, Godwin Amarh, told Starr News a total ban on mining will be a disaster.

"If you look at those who don't have license they are those who are destroying our forests and polluting water bodies so if you are proposing that we ban both small scale mining and galamsey altogether, then it will be a disaster for the whole nation. If you want to have holistic approach to it let us understand the issues on the ground…let us get proper understanding and come out with polices that will be able to tackle the issue but if you say we should ban the whole issue then that is not the right way to go".