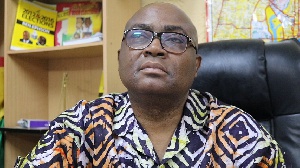 Pollster Ben Ephson has said the governing New Patriotic Party(NPP) Chairman, Freddie Blay could manoeuvre to snatch victory in the National Chairmanship race from Alhaji Abubakari Abdul-Rahman popularly known as Alhaji Short and Mr. Stephen Ntim who are neck deep in a rivalry.
He believes "thoroughbred" Blay who's well versed in elections could smartly be working behind-the-scenes to turn around the squabble between the two to his advantage.

"I believe quietly on the side, Freddie Blay will be touching base with those who'll be voting and work hard towards his win. This is the last phase of a crucial step at the national level and you must get your people elected at the regional elections because they will form the core at the National elections. And frankly the more the two engage in needless fights, the more Freddy Blay will be seen as a peacemaker. The electorates may even have doubts in their minds that they two[Ntim and Alhaji Short] are not cut out for the position on the back of the tensions erupting between them." Ephson told Fiifi Banson on Anopa Kasapa on Kasapa 102.5 FM Wednesday.

In an audio rife on social media platforms, Mr. Ntim in an impassioned voice is heard blaming the President for his woes in previous contests and referenced the President's support for Mr Fred Oware in 2014 which he saw as his undoing in that contest. He further dismissed the candidature of Alhaji Short referring to him as unfit to be amongst the big names contesting for the National Chairman position of the NPP.
But a statement issued on behalf of Alhaji Short by his campaign team said it's unclear as to how much visibility Alhaji Short requires to make himself known to Mr Ntim for him to be qualified to stand for the National Chairmanship slot when he[Alhaji Short] by records is the longest-serving Regional Chairman in the history of the NPP.

"We reject Mr Ntim's belittling of Alhaji Short as a nobody. It is our view that this unfortunate and unjustified insult raises serious questions of Mr Ntim's judgment and credibility. What hope is there for an organisation or party, for that matter, whose leader cannot be trusted to have the integrity to provide correct information? the statement questioned.

Three heavyweights, including the current acting Chairman, Mr Freddie Blay, former First Vice Chairman of the party, Mr Stephen Ayensu Ntim, and Alhaji Abdul Rahman (aka Alhaji Short) are warming-up to the June elections expected to be one of the keenest in the NPP polls.