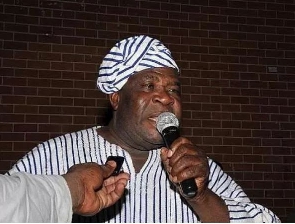 The Northern regional Chairman of the New Patriotic Party (NPP), Daniel Bugri Naabu has alleged that some of the aspirants for the chairmanship slot of the party in the upcoming regional elections have been planted by the main opposition National Democratic Congress (NDC).
This, he said, is to use those aspirants to sow a seed of discord in the party in the event that they win the election.

According to Mr Naabu, who fell short of mentioning the names of the suspected aspirants, the NDC plans to thwart the efforts of the party in the 2020 elections hence its decision to sponsor candidates in the party's internal elections.

"To be honest with you some of the aspirants are wolves in sheep skin. Some of them have been planted and are being sponsored by the NDC," he alleged.

Mr Naabu said this on Radio tamale's morning show Wake up Tamale and advised delegates to be wary of such candidates as they go to the polls later this month.
Recounting similar incidents in the build up to the 2016 elections, the NPP chairman said "we realized then that there some people who belonged to the NDC and the NPP at the same time and when I mentioned it to members of the party some people said I will cause problems in the party if I take any action against those people. They later confirmed my assertions and when those people were expelled from the party, the NPP became stronger."

Mr Naabu, who is seeking reelection as regional chairman of the party, said he has succeeded in making the party more attractive to the people of the Northern region.

He pledged to provide jobs for the youth of the party in the event that he is given another mandate by the electorate.