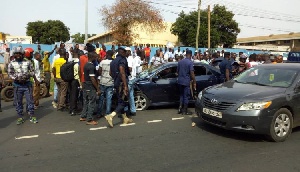 The Savannah Development Policy Think Tank has expressed worry about the rising wave of armed robbery cases and general insecurity across sectors of the country, saying it is a recipe to scare away potential investors.
It called on government to provide more resources to the security agencies to enable them match the sophisticated nature of the robbers and bring their nefarious activities under control.

Mr Abu Kansangbata, the Acting Executive Director of the Savannah Development Policy Think Tank, said this in an interview with the Ghana News Agency in Wa.

He warned against politicization of robbery issues and called for a collaborative effort to flush out the criminals to restore the state of security to enable people go about their daily lawful activities without fear of being attacked.
Mr Kansangbata said the provision of resources alone to security personnel would not solve the problem but rather total commitment and dedication by the personnel was needed to address the matter.

He said the public was beginning to lose confidence and trust in the security agencies hence the call calls by sections of the public on the Inspector General of Police to step down.

The level of threat posed by these armed robbers to citizens of the country cannot be underestimated, hence the need for the security agencies to defeat the challenge, Mr Kansangbata said."