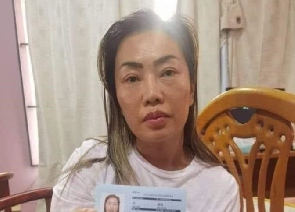 State Prosecutors have closed their case after parading 11 witnesses to give evidence in the case in which galamsey kingpin, En Huang aka Aisha Huang, has been charged.
Ms. Huang was on September 16, 2022, arraigned and charged with four counts of undertaking a mining operation without a licence, facilitating the participation of persons engaged in a mining operation, the illegal employment of foreigners and entering Ghana while she had been prohibited from re-entry.

She has since been convicted by the High Court in Accra after changing her not guilty plea to guilty to an immigration offense, which was the fourth count.

The embattled galamsey kingpin admitted the charge of – Entering Ghana while prohibited from re-entry contrary to section 20(4) of the Immigration Act, 2000, Act 573 – after she entered into a Plea Bargaining agreement with the State.

On Wednesday, May 3, the Criminal Division of the Accra High Court presided over by Her Ladyship Justice Lydia Osei Marfo convicted her after her plea was retaken.

Her sentencing, has been deferred to after the end of the trial in respect of the three remaining charges.

In court on Wednesday, May 3, the Prosecution led by Deputy Attorney General Alfred Tuah Yeboah, closed their case after calling 11 witnesses to adduce evidence.
Prosecution Witnesses

According to EIB Network's Legal Affairs Correspondent, Murtala Inusah, who has compiled the witnesses who testified in the case from November 9, 2022, said, they included farmers, land and concession owners, an assemblyman, immigration officers and police investigators.

Below are the Prosecution Witnesses, (PW),and the chronology of how each of them appeared before the Criminal Division of the Accra High Court presided over by Justice Lydia Osei Marfo.

PW1. Reuben Ransford Aborabora, a Superintendent of Immigration, GIS

PW2. David Essien, a Superintendent of Immigration, Ghana Immigration Service

PW3. Nana Sarfo Prempeh, Director of Volta Resources Limited, who is also a Divisional Chief at Asante Akyem Agogo Traditional Area.
PW4. Albert Appiah, a farmer at Bepotenten, Ashanti Region.

PW5. Timothy Teye Ali, a farmer at Bepotenten, Ashanti region.

PW6. Peter Amenya, a farmer at Bepotenten, Ashanti Region

PW7. Matthew Kwabla Abotsi, assemblyman for Bepotenten Electoral Area

PW8. ASP Charles Adaba (Rtd), a Police Investigator

PW9. Daniel Afrifa Adu, Assistant Superintendent of Immigration
PW10. Inspector Simon Nyaho, a Police investigator

PW11. Devine Ahuma Ocansey, a Superintendent of Immigration.

Lawyers of Aisha Huang have since been ordered to file their submission of no case to answer by May 16 while the Prosecution is to respond by May 24.

The case has been adjourned to May 25,

Brief facts

Per the brief facts of the case as narrated to the Court by Detective Chief Inspector Frederick Sarpong were that, the Complainants in the case are Security and Intelligence officers based in Accra.
He said, all the accused are Chinese nationals who have gained notoriety in engaging in series of small-scale mining activities known as 'galamsey' across the country.

The prosecutor said, during the year 2017, the 1st Accused (Aisha Huang) was arrested for similar offence but managed to sneak out of the country averting prosecution.

Detective Chief Inspector Sarpong said, during the early part of 2022, the 1st Accused sneaked back into the country after having changed the details on her Chinese passport.

The Prosecutor said, the 1st Accused again resumed small-scale mining activities without licence and together with 2nd, 3rd and 4th Accused persons engaged in the sale and the purchase in Accra without valid authority granted as required by the Minerals and Mining Act.

He stated that the 2nd, 3rd and 4th Accused persons are also into the sale of equipment used in illegal mining activities.

They were subsequently arrested upon Intelligence while further investigations have commenced.