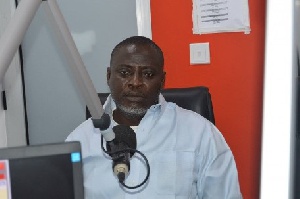 A National First Vice Chairman hopeful of the governing New Patriotic Party(NPP), Michael Omari Wadie has warned the Electoral Commission(EC) against any acts of changing the voting pattern of the Vice chairpersons slot by delegates at this year's National Annual Delegates conference of the New Patriotic Party.
He said there are plans by the EC to rearrange the process and rather make delegates vote for one person on the ballot paper regarding the vice chairmanship positions instead of the three as it has always been in previous elections.

He argued that the EC's move contravenes Article 9(E) (i) of the NPP Constitution and must be resisted by the rank and file of the party.

"I want to emphasize here that, the Electoral Commission can't determine or change the procedure for which our national executive elections are conducted". This long-standing mode of voting must be heeded to.
"Let me send a word of caution to the E.C. that, any move to go by this so-called new rule will not be accepted. This is contrary to our party constitution and as members of the great NPP, we will ensure that no such move is implemented.

"The framers of our party constitution were very clear in their minds and much informed about any position in the party and drafted the constitution and set out criteria to suit the election of all executives into office. This is indeed a momentous time that we are traversing and we must not allow anyone to truncate our waiting joyous moment," he told host Kwaku Owusu Adjei on Anopa Kasapa on Kasapa 102.5 FM.