Stephen Atubiga discloses alleged meeting at Rawlings' house to stop Mahama from contesting in 2020 elections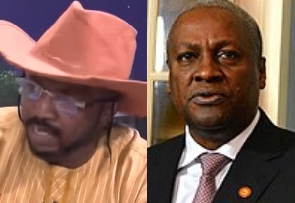 Stephen Atubiga, a former flagbearer hopeful of the National Democratic Congress (NDC), has alleged that a meeting was held by leading figures in the party to stop former president John Dramani Mahama from contesting in the 2020 election.
According to him, the meeting was held at the premises of the late former President Jerry John Rawlings and was attended by persons who had expressed their interest in contesting for the NDC flagbearership position for the 2020 elections and some elders of the party.

Stephen Atubiga, who made these remarks in an interview on Metro TV's Good Evening Ghana programme on Thursday, July 6, 2023, said that the original purpose of the meeting was to complain about the cost of filing nomination for the flagbearership race but it turned out to be about Mahama.

"Put me on record that when we, all the presidential aspirants, went to Jerry, I didn't know among my 8 colleagues, their decision was to tell John not to contest; they felt that he had already gotten his opportunity to rule.

"This happened when we went to protest against the 3 billion filing fees at Jerry's house. John Mahama wasn't there but on my way (for the meeting), he called me and said he could not catch a flight to return to the country and that I should update him on what happens, so it means I represented his interest.

"Gussy was there, Spio was there, Alabi was there, Asiedu Nketiah (the then general secretary), Alhaji Iddrisu Mahama (representing the council of elders) … so when we got there and the collective decision was to tell John not to contest," he said.
He said that he protested the suggestion by the other presidential contenders and there was no conclusive decision after the meeting.

Watch the interview below:



BAI/FNOQ

You can also watch this episode of People & Places here: