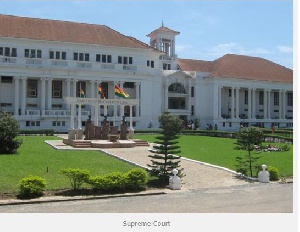 The Supreme Court has been asked to instruct President Nana Akufo-Addo to suspend any move to appoint a new person as chairman of Ghana's Electoral Commission.
The president last week removed the head of the electoral body, Charlotte Osei and her two deputies following a recommendation by the Chief Justice.

The action has been described as a political witch-hunt by the Coalition of Democratic Governance.

But a private citizen, Fafali Nyonator who is challenging the powers of the Chief Justice with regards to the procedure she adopted leading to the removal of the former EC boss, filed a writ on July 3, 2018 seeking interpretation and enforcement of the provisions of the Constitution under Articles 2 (1)(b) and 130 (1)(a).

"Subject to the jurisdiction of the High Court in the enforcement of the Fundamental Human Rights and Freedoms as provided in article 33 of this Constitution, the Supreme Court shall have exclusive original jurisdiction in –

"(a) all matters relating to the enforcement or interpretation of this Constitution; and…" Article 130 of the Constitution stipulates.
Fafali who is suing the Attorney General and Minister of Justice, said the Chief Justice exceeded her powers and violated Article 130 (a) of the Constitution, thus accusing the head of the judiciary of "usurping the exclusive original jurisdiction of the Supreme Court to interpret the provisions of the Constitutions".

She is also seeking an order of declaration, among others, that the prima facie case established against madam Charlotte Osei is null and void.

"An order of perpetual injunction restraining His Excellency, the President of the Republic of Ghana from appointing any person to the position of the Chairperson of the Electoral Commission until that position has become lawfully vacant in accordance with proper process and procedures as by law established," Fafali Nyonator prayed the court.

The Attorney General Sophia Akuffo has 14 days to respond to the suit.