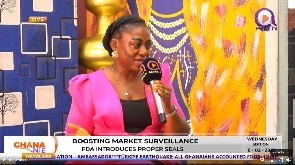 The Food and Drugs Authority has warned that it will soon storm marketplaces, especially Kwame Nkrumah Circle, to ensure food vendors are adhering to proper procedures required by the authority while cooking and selling food to the public.
Aside from going to markets, the FDA also intends to visit the various food joints and, as well, those who sell food on their heads, to verify if all the food vendors have the street food vending permits issued by the FDA.

This is part of the FDA's plan to increase market surveillance to make sure that people eat healthy food even when it is made or sold on the street.

This was announced by the Public Relations Officer at the Food and Drugs Authority, Mrs. Rhoda Appiah, when she sat with Abena Dufie on Atinka TV's morning show, Ghana Nie.

According to her, it has become necessary that the FDA intensifies market surveillance for the safety of the consumers.

"We have spoken about vendors going for the street food vending permits, but people have ignored it. Very soon, Circle will shake." We are going to embark on the exercise, but before we do that, we will advise the people. "We say it as good words to you, but if you do not listen, at some point it will become like beatings, and that is when we start to seize your equipment. Make sure you do not say the FDA is destroying your businesses," she warned.
Mrs. Rhoda Appiah therefore urged all street food vendors and retailers of soft drinks and water to walk to the nearest municipal or district assembly to ask for the street food vending permit form.

"It is not about money, it does not come at a cost; the form is actually free." When it is printed, it is GHS5, and they have to fill it out and attach their operating permit to it. "When we look at it at the assembly, it says that you do not have any communicable disease before you cook, and when you are cleared, you are given a health certificate to attach to the form, and then you are done at the office," she said.

Mrs. Rhoda Appiah also stressed that, not just the vendors had to go through the process but all the workers as well.

Meanwhile, after visiting the cooking locations for the first time to assess the situation, she stated that the FDA, along with Environmental Health Officers, will visit the locations unannounced to see what is going on.

Even before that, she said, the vendors will be put through some important measures aside from a medical test before they are given the permits to paste on their tables or carriers.
She said the permits will last for a year and after that, the owners must renew it to get the stickers.

You can also watch this edition of People & Places on Ghanaweb TV: