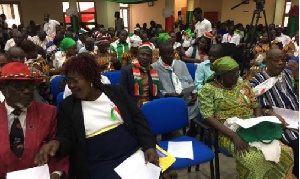 The Convention People's Party (CPP) says students cannot be allowed to imbibe, without questioning, whatever they are taught. For this reason, the young ones will be empowered to assess teachers. "We are raising a new Ghanaian who will question," stressed the Second Vice Chairperson of the party, Susan Adu Amankwaa.
Mrs Adu Amankwaa was delivering highlights of the social policies of the party as captured in its 2016 manifesto, which is being launched today, Saturday, October 29 at the Ghana Academy of Arts and Science in Accra.

The pharmacist pointed out that: "We will let students assess teachers".

Free secondary education

She said secondary education will be made free and "we said this a long time ago".
She also indicated that science and technology will be at the forefront of education under the CPP.

Among several policies to promote science and technology, she said, "we shall complete the Science and Technology Museum, which has been under construction forever".

She added that training institutions will be increased under the CPP while specialized education will be introduced in all public universities.