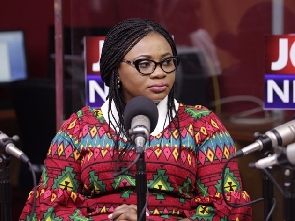 The dismissed chair of the Electoral Commission (EC) of Ghana, Charlotte Osei, must challenge her dismissal in court, Rockson-Nelson Dafeamekpor, Member of Parliament for South Dayi, has said.
According to him, there are legal breaches in the process that was used in ousting Mrs Osei, for which she must seek redress in court.

President Nana Addo Dankwa Akufo-Addo, on Thursday, 28 June removed Mrs Osei and her two deputies, Georgina Opoku Amankwah and Amadu Sulley, from office.

The removal was on the recommendation of a committee set up by the Chief Justice Sophia Akuffo, to investigate alleged acts of corruption, misconduct and misbehaviour by the three commissioners.

Information Minister, Dr. Mustapha Hamid, in a statement issued Thursday, June 28, 2018, announced the dismissal of Charlotte Osei, Georgina Opoku Amankwaah and Sulley Amadu for misbehaviour and incompetence.

The opposition National Democratic Congress (NDC) has kicked against the decision describing it as politically motivated and has demanded a reversal of the President's action.
National Organiser, Kofi Adams claims the accusations against Charlotte Osei are trumped up claiming that the decision remove her as well as her two deputies, is part of a well thought out plan by the governing New Patriotic Party (NPP) to rig the 2020 elections.