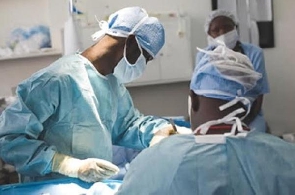 Thu, 9 Mar 2023 Source: GNA
The Akatsi Municipal Hospital in the Akatsi South Municipality of the Volta Region has seen a decline in surgical cases and others during the 2022-year performance under review.
A total of 1,527 surgeries in 2022, representing an 18.4 per cent decline, compared to 1,808 in 2021, representing 91.1 per cent.

This was made known to the Ghana News Agency (GNA) by Pascal Ayivor, the Hospital's Health Information Officer, after an annual health review for 2022 was conducted by the Municipal Health Directorate.

The figures also disclosed a total of 45 deaths in 2022 as against 47 in 2021, while an increase of 44,712 Out-Patient Visits was also recorded against 40,361 in 2021.

On hospital admissions, a total of 5,649 in 2022 compared to 6,374 in 2021 also saw a decline of 12.8 per cent over the period under review.

Ayivor further disclosed that Anaemia, Malaria, Intestinal Worms, Urinary Tract Infections, Eye Infections, Septicaemia, Gynae Conditions, Ulcers, Dental Caries, and others, were among the top ten causes of Outpatient figures for the year under review.
There had also been a decrease of 12.9 per cent in the total number of deliveries between 2021 and 2022.

A total of 1458 deliveries were conducted in 2021 as against 1291 in 2022.

The Akatsi Municipal Hospital operates with a bed capacity of 79 and provides health services such as Medical Care, Surgical Care, Reproductive Child Health- Family planning, ENT, Dental, and Eye.

Some major challenges confronting the facility according to management, involved inadequate wards and ward space, inadequate equipment, inadequate staff accommodation, inadequate office accommodation, and delay in National Health Insurance Authority (NHIA) claims payment.
Source: GNA