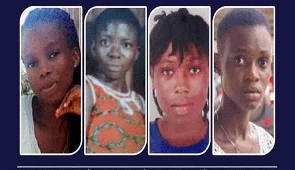 Five years after the report on the abduction and killing of four Takoradi girls, some relatives of these girls are yet to bury the victims.
Comfort Arhin, the mother of one of the victims, Ruth Abakah has revealed that her family never got the request to have a DNA test performed on the alleged skeleton belonging to Ruth granted.

She again added that there is no permanent resting place for Ruth Abakah as her remains were never seen or received by the family for burial.

"We don't have the skeleton of Ruth for burial. Even on the day of the final trial, I heard four coffins were presented in court but they were closed to the public. We were never invited to the sitting. The was no hearing on the days we appeared in court so, to date, we can't tell what exactly transpired," she said.

In an interview with DANI FM and monitored by GhanaWeb, Ruth Abakah's mother, Comfort Arhin stated that the families of the victims were never present during the trial of the then suspects, Sam Udeotuk Wills and John Orji.

Nana Adwoa Quayson, the sister of one of the victims, Ruth Love Quayson, concurred that her family is also yet to receive the remains of her sister for interment.

"We never performed a DNA test on the skeleton of my sister. We only depended on what the state had conducted. We didn't get the remains of my sister so there was no burial or funeral rites. We don't know if the police buried the remains or they are still in a lab," Nana Adwoa Quayson said.
Between July and December 2018, there was a report on the kidnapping of Ruth Abakah, 19; Priscilla Blessing Bentum, 21; Ruth Love Quayson,18 and Priscilla Koranchie, 15.

The abduction was perpetrated by two Nigerians; Sam Udeotuk Wills and John Orji but only Sam was eventually convicted in 2021 to a life sentence.

Watch the latest episode of The Lowdown on GhanaWeb TV





ABJ/WA